U.S., North Korea to meet on Sunday over war remains

Reuters
7/12/2018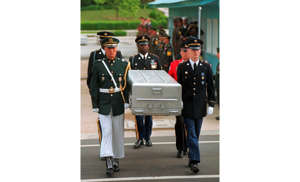 © ASSOCIATED PRESS FILE- In this May 14, 1999, file photo, U.N. honor guards carry a coffin containing the remains of the American soldiers after it was returned from North Korea at the border village of Panmunjom, South Korea. South Korean media reported that the U.S. military plans to send 215 caskets to North Korea through a border village on Saturday, June 23, 2018, so that the North could begin the process of returning the remains of U.S. soldiers who have been missing since the 1950-53 Korean War. (AP Photo/Ahn Young-joon, File) North Korea has offered to meet an American delegation on Sunday to discuss the repatriation of remains of soldiers killed in the Korean War, a U.S. State Department spokeswoman said on Thursday.
Spokeswoman Heather Nauert said North Korea's Vice Chairman Kim Yong Chol had agreed in earlier talks with U.S. Secretary of State Mike Pompeo to meet on or about July 12 in Panmunjom with an American delegation over the remains. That meeting did not materialize.
"Midday today they contacted us and offered to meet on Sunday," Nauert said in a statement. "We will be ready."
(Reporting by David Brunnstrom; writing by David Alexander)