Maduro Blockades Guaido as He Heads to Showdown in Border Town

Bloomberg
2/22/2019
(Bloomberg) -- The Venezuelan stage is set for a weekend of spectacle and danger.
Just across the border in Cucuta, Colombia, loudspeakers and lights have been hung for a Friday concert meant to raise money for the hungry nation. Volunteers are preparing to don white garb the next morning and make a brave walk across international bridges to bring food and medicine to their compatriots.
Preparations for the Venezuela Aid Live concert near the Tienditas International Bridge to Venezeula in Cucuta.
On the Venezuelan side, President Nicolas Maduro, who has promised a competing concert, says the aid is a pretext for a U.S. intervention and has locked down his nation. The socialist autocrat started closing entry points on Thursday, and soldiers hindered the movements of opposition lawmakers and National Assembly leader Juan Guaido, who is trying to rally the world behind him as he attempts to break Maduro's grip on the military.
Guaido's primary weapon is tons of donated food and medicine being stockpiled in Colombia, Brazil and the island of Curacao. Maduro's government says the ravaged country has no need of help, while U.S. President Donald Trump has said all options are open if Venezuela continues to block the supplies. Traditional aid groups have shunned the effort, saying basic human needs shouldn't be tied to politics.
QuickTake: Why Venezuela Has Two Presidents, One Thorny Standoff
A volunteer distributes food at the Francisco de Paula Santander International Bridge in Cucuta.
Darvis Avila, a 48-year-old Venezuelan pineapple picker, fled his homeland four months ago amid hyperinflation and malnutrition. On Thursday, he stood at the six-lane Tienditas Bridge in Cucuta, which leads to Venezuela, but has never been used.
"This fight isn't for us, it's for our relatives in Venezuela," he said. "I -- and not just me but a lot of Venezuelans -- will be here on Saturday at 6 a.m. to bring in the aid for those who really need it."
Cucuta's Aid Live concert was organized by Virgin Atlantic founder Sir Richard Branson and promises a bill of Latin superstars such as Luis Fonsi, Juanes and J Balvin. Late Thursday, scores of people were drifting into the site, a pasture organizers said can hold 300,000 -- almost half the city's population. Workers erected a proscenium that soared 14 meters high and was decorated in the colors of the Venezuelan flag. Conga drums were already in place.
Clearing the Way
Opposition supporters passed out flyers urging people to camp out after the show, before arising to cross the bridge, one of three in that area of the border. It has been blocked for days by trailers the Maduro regime placed there, but opposition officials said they would bring in heavy equipment to move them aside.
The word "Peace" is painted on a shipping container on the Tienditas International Bridge to Venezeula in Cucuta.
"My countrymen, my brothers, I wait for you on the international bridges, where our mothers and children have left us, where we have cried and where we had to run when the dictatorship chased us," Congresswoman Gaby Arellano, one of the aid organizers, said in Cucuta on Thursday.
Colombia's migration authority said late Thursday that traffic on the international spans Saturday will be restricted to people mobilizing aid.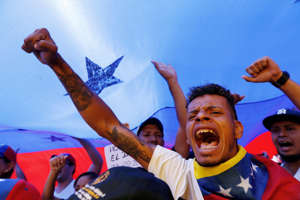 Slideshow by photo services
National Guards wait in a truck parked at the entrance to the Tienditas International Bridge.
The marchers will face a formidable force: On the Venezuelan side, there is a heavy police presence. Patrols on motorcycles and in Toyota trucks crisscrossed towns and cities near the border on Thursday. Guardsmen set up checkpoints on major roads leading into Colombia, and hundreds of soldiers were deployed to the Tienditas Bridge. Armored vehicles and personnel carriers rolled throughout the area.
No Panacea
Venezuelans from across the country milled around the border town of San Antonio de Tachira, but few said they had plans to cross into Cucuta for the Aid Live concert. Most had come to shop, others to emigrate along with luggage, pets and loved ones.
Lizmary Rodriguez, a 32-year-old teacher from Portuguesa state, traveled 12 hours by bus to buy basics in Colombia including dish soap, sausages and used tires -- all of which she said were cheaper across the line. Rodriguez said she is overjoyed by the international attention Guaido has garnered but doubts change will happen soon even if the aid manages to get past border guards.
"Hopefully this will at least open their eyes," she said.
Question of Momentum
The confrontation caps a monthlong run of protests and sanctions aimed at unseating Maduro, the 56-year-old hand-picked heir of the late President Hugo Chavez. After Guaido invoked Venezuela's charter Jan. 23 to declare himself the rightful head of state, the U.S. urged other nations to recognize the 35-year-old as president. It also levied crippling sanctions on Venezuela's all-important oil industry.
On Monday, Trump railed against the dangers of socialism in a speech in Miami and called on the military to stop supporting the embattled president. The European Union is sending a team to push for new elections. Russia, China and Turkey have maintained their alliance with Maduro. The president is holding onto power longer than many expected, and allies worry that efforts to oust him could backfire.
Christopher Sabatini, who teaches international relations at Columbia University in New York, said the Trump administration is quickly running out of diplomatic options. "They hope each one of the measures produces the result they want -- each time doubling down on the latest step,'' he said.
The military -- the nation's crucial force -- has largely stuck by Maduro, with only a scant few of the thousands of top officers abandoning him.
Presidential Power
On Thursday, Hugo Carvajal, a retired army officer who led military intelligence for more than 10 years, published a video on his Twitter account recognizing Guaido. He told Maduro, "You have murdered hundreds of young people in the streets for claiming the rights you stole, not to mention those who died due to lack of medicine and security."
But Maduro demonstrated his remaining power vividly: He announced that Venezuela's land crossings with Brazil would shut and said he is also weighing "a total closure of the border with Colombia." He had already sealed off access from Curacao and the islands of Aruba and Bonaire.
Officers stopped three buses carrying lawmakers sympathetic to Guaido in Carabobo state as they headed to San Antonio. Guaido, traveling separately for security reasons, was held up by army trucks blocking a tunnel east of the capital, said Edward Rodriguez, a spokesman.
Late Thursday, Guaido was still on the road to the border.
--With assistance from Samy Adghirni and Alex Vasquez.
To contact the reporters on this story: Oscar Medina in Bogota at omedinacruz@bloomberg.net;Andrew Rosati in Caracas at arosati3@bloomberg.net
To contact the editors responsible for this story: Patricia Laya at playa2@bloomberg.net, Stephen Merelman, Melinda Grenier
For more articles like this, please visit us at bloomberg.com
©2019 Bloomberg L.P.