World 'watches and weeps' as Notre-Dame burns

France 24
4 days ago
Video by The Associated Press
From tourists gathered on the banks of the Seine to religious and state leaders from around the world, there was an outpouring of shock and sadness Monday night as flames ravaged Notre-Dame cathedral in Paris.
"Like all our compatriots, I am sad this evening to see this part of all of us burn," said French President Emmanuel Macron as the scale of the devastation to the 12th century cathedral became apparent.
It was a sentiment shared not only by many of those who watched on TV screens, social media and in person as flames tore through the roof of the 850-year-old building, causing its spire to collapse and untold damage within.
'Paris is disfigured'
Along the Pont au Change bridge, which connects the Ile de la Cité with the Right Bank, the atmosphere was one of a vigil as hundreds of people watched in hushed silence as smoke rose into the night sky.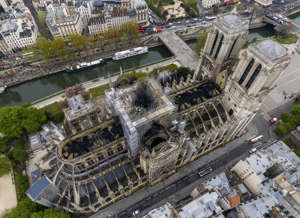 Slideshow by photo services
Many were quietly singing an Ave Maria in Latin, including Stephane Seigneurie, 52, who said he has lived in Paris for the past 25 years.
"I come often, and go in even where there's no mass because it's an extraordinary place, entwined in the history of France," he said.
"Politically, intellectually and spiritually, it's a symbol of France."
"Paris is disfigured. The city will never be like it was before," said Philippe, a communications worker in his mid-30s, who had biked over after being alerted of the fire by a friend.
"I'm a Parisian, my father was a Parisian, my grandfather as well -- this was something we brought our sons to see," he said. "I won't be showing this to my son."
"It's a tragedy," he added. "If you pray, now is the time to pray."
It was not just locals who felt the anguish of watching one of Europe's most recognisable cultural landmarks burning down.
"We were heartbroken because as New Yorkers we've been through this," tourist Jeanne Duffy, 62, said, referring to the September 11, 2001 attacks which destroyed the twin towers of the World Trade Center.
"In terms of heritage this is much worse. This is a world treasure. Everyone knows Notre-Dame," she said.
The mayor of Paris, Anne Hidalgo, said she "did not have the words to express the pain" she was feeling.  "All Parisians and the French people are mourning this emblem of our shared history," she added.
© AFP | An aerial view shows Notre-Dame cathedral in Paris as flames tear through the building on Mond... Notre Dame 'belongs to the whole of humanity'
Expressions of sadness and solidarity quickly flooded in from political leaders across the globe.
Notre-Dame "belongs to the whole of humanity. It has inspired writers, painters, philosophers and visitors who have come from all round the world", said EU Commission head Jean Claude Juncker
"Horrified by the pictures coming from Paris with the fire engulfing Notre-Dame Cathedral -- a unique example of world heritage that has stood tall since the 14th century. My thoughts are with the people and government of France," said Secretary General Antonio Guterres.
UK Prime Minister Theresa May said her thoughts "are with the people of France tonight" while German Chancellor Angela Merkel's spokesman Steffen Seibert said the images of the cathedral on fire were "painful".
"Notre-Dame is a symbol of France and of our European culture. Our thoughts are with our French friends," added Seibert.
US President Donald Trump, meanwhile, described the fire as "horrible" and suggested the emergency services used flying water tankers to put out the flames, an idea that was quickly dismissed by the authorities.
'Sacred place'
Many religious institutions and leaders, both in and outside of the Catholic faith, offered their prayers to the people of France and the firefighters battling the blaze.
"We express our closeness with French Catholics and with the Parisian population. We pray for the firefighters and for all those who are trying their best to tackle this dramatic situation," the Vatican said.
Archbishop of Canterbury Justin Welby, head of the Anglican Church, said that "tonight we pray for the firefighters tackling the tragic Notre-Dame fire -- and for everyone in France and beyond who watches and weeps for this beautiful, sacred place where millions have met with Jesus Christ".
The World Jewish Congress also paid tribute to what its president Ronald S. Lauder said was "an inimitable icon, a symbol of the country's great culture and history".
"We pray that there are no injuries or loss of life in this tragedy, and that the destruction can be restored to allow this unparalleled structure to return to its position of symbolic majesty on the Parisian skyline," he said.
Macron, meanwhile, speaking later outside the cathedral as firefighters still battled to extinguish the flames, vowed that Notre-Dame will be rebuilt, with international help to raise funds.
"We will rebuild Notre-Dame because it is what the French expect," he said.
(FRANCE 24 with AFP)