Yemeni girl with cerebral palsy heads to U.S. for help despite Trump travel ban
USA TODAY
5/26/2018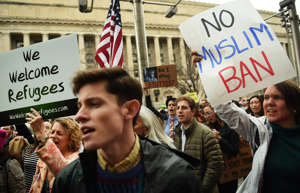 A 10-year-old Yemeni girl with cerebral palsy whose family initially was denied an exemption from President Trump's travel ban is on her way to the United States.
Shaema Alomari had become a cause célèbre among opponents of the ban against travelers from five predominantly Muslim countries — Iran, Libya, Somalia, Syria and Yemen. Her situation was cited during oral arguments at the Supreme Court last month.
"This waiver process has excluded ... a 10-year-old with cerebral palsy who wants to come to the United States to save her life, and she can't move or talk," Neal Katyal, the attorney who argued the case against the ban, told the justices. 
According to the Pars Equality Center, which helps travelers from Persian-speaking countries integrate into the United States, the girl has had difficulty getting her required medicines because of the civil war in Yemen. 
"Doctors told her parents that she will not survive in Yemen," the group said in legal papers submitted as part of the travel ban case.
Following the Supreme Court hearing, the girl's father, Nageeb Alomari, an American citizen, heard from U.S. consular officials in Djibouti that the case had been re-evaluated and the family would get a waiver. He has a wife and two other children in Yemen.
The Yemeni American Merchants Association planned to welcome the family Saturday afternoon at John F. Kennedy International Airport in New York. 
"As a community, we will celebrate Shaema's arrival but remain very aware that there are thousands of Yemeni American family members who continue to suffer under this travel ban," said Zaid Nagi, the group's vice president.
"Our display of solidarity will show Shaema and her family that Americans welcome them with open arms, and we as a people do not support a Muslim ban," said Debbie Almontaser, the group's secretary.
Trump's travel ban has been revised twice since it was initially proposed a week into his presidency last year. Federal courts from Maryland to Hawaii have pronounced it unconstitutional, but the Supreme Court let the latest version go into effect while under review.