Boxing world pays tribute to Pernell Whitaker following his death

Larry Brown Sports
7/15/2019
© Simon Bruty/Getty Images Video by Sports Illustrated
The sport of boxing lost a legend on Sunday night when Pernell "Sweet Pea" Whitaker was hit by a car and killed, and his death has hit the boxingg community hard.
Whitaker, who was 55, was struck and killed in a tragic accident in Virginia Beach. Details of the crash were not released as of Monday afternoon, with the investigation ongoing, per the City of Virginia Beach.
OVERNIGHT: A man died after he was hit by a car on Northampton Blvd. in #VirginiaBeach.

A woman who saw the accident scene says "That was someone's brother, child, or father." pic.twitter.com/eS36JqrXjO

— Kiahnna Patterson (@KPattersonWAVY) July 15, 2019
Several of boxing's biggest names took to social media to pay tribute to Whitaker after learning the sad news.
I'm truly lost for words to hear Pernell "Sweet Pea" Whitaker is no longer with us. He was a flawless fighter. Condolences to his family. pic.twitter.com/pZZEceN7h2

— Mike Tyson (@MikeTyson) July 15, 2019
I'm deeply saddened by the loss of this great champion, who gave a tremendous amount of joy to those who watched him. #PernellWhitaker pic.twitter.com/IZv3IQOo2f

— Oscar De La Hoya (@OscarDeLaHoya) July 15, 2019
It was an honor to share the ring with him. In terms of his defense and ring generalship, Pernell Whitaker was the best fighter that I ever fought. On behalf of everyone at Golden Boy, we send our prayers and condolences to his family and friends. pic.twitter.com/sa4qZIDIIG

— Oscar De La Hoya (@OscarDeLaHoya) July 15, 2019
I am saddened to learn of my good friend and Olympic teammate Pernell Whitaker's untimely passing last night.

We share so many great memories. He was small in statue but yet so big in heart and skills inside the ring, there will never be another like him, he will truly be missed pic.twitter.com/IqmXkqpqkG

— Evander Holyfield (@holyfield) July 15, 2019
When Pernell Whitaker was world champion from lightweight to light middleweight, he was something special. In my Top 2 fave fighters. I could watch hours and hours of him. Glad I got to sit next to him at the Ward v Kovalev fight in Las Vegas. R.I.P. pic.twitter.com/56T1ueHiLh

— Ashley Theophane (@AshleyTheophane) July 15, 2019
On my NY public access TV show "Max on Boxing" (1989-1998), I talked Pernell Whitaker more than any other fighter; it was basically the Pernell Whitaker show. He was the pound for pound best for half a decade, and one of the 3 greatest pure boxers who ever lived. RIP Sweet Pea.

— Max Kellerman (@maxkellerman) July 15, 2019
Whitaker held numerous titles during his boxing career and had a 40-4-1 record with 17 knockouts. He was one of the best fighters of the 1990s and one of the best defensive boxers of all time. He won a gold medal at the 1984 Olympics and was inducted into the International Boxing Hall of Fame in 2006, in his first year of eligibility. 
He made a name for himself similar to the way Floyd Mayweather Jr. did, as he was virtually impossible to hit.
Before there was Floyd Mayweather

There was Sweet Pea

R.I.P Pernell Whitaker pic.twitter.com/FRGDPNMyun

— Undefeated Podcast (@podundefeated) July 15, 2019
Sweat Pea was truly one of the best to do it.
Related slideshow: Notable sports deaths of 2019 (Provided by imagn)
More from Larry Brown Sports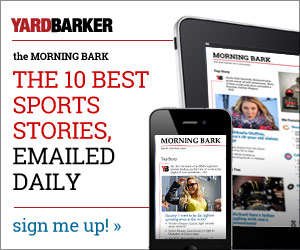 Larry Brown Sports