David Haugh: Bryce Harper as a Cub is a $300 million fantasy the team cannot afford
Chicago Tribune
8/10/2018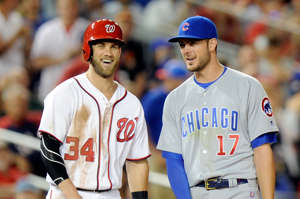 Once upon a time, two Little Leaguers from Las Vegas grew up to be baseball superstars, home run hitters who shared a hometown and occasionally dropped hints about playing for the same team.
The fantasy of Bryce Harper hitting in front of Kris Bryant captures a Cubs fan's imagination. The reality is the team can find more fiscally responsible ways to invest $300 million, especially with a roster full of young core players who will require long-term contracts.
Harper and the Nationals arrived Friday at Wrigley Field for a three-game series barely above .500, a preseason National League pennant contender that has endured its share of disappointment this summer. An October rematch with the Cubs remains a slim possibility given the talent level of the Nationals but more suspense surrounds the pending free-agency of their 25-year-old outfielder.
Will Bryce join Bryzzo in Chicago?
On the surface, the easy answer is a question: Why not? Look around Wrigleyville and all revenue streams converge at Clark and Addison with Cubs chairman Tom Ricketts having pockets even deeper than this team's bench. The Cubs, with Major League Baseball's fourth-highest payroll at $188.6 million, now have reached the level where they should consider chasing every elite free agent and competing for the World Series every season. Signing a player of Harper's ilk would be in character of a club that inked free agents Jon Lester, Jason Heyward and Yu Darvish to nine-figure contracts.
But just because Ricketts has the money doesn't mean the Cubs have to spend it - especially given the contract extensions likely due Bryant, Javier Baez, Kyle Schwarber and Kyle Hendricks in the coming years. And how will those new deals affect the dynamic with team leader Anthony Rizzo, whose team-friendly contract expires in 2021?
At some point, the inflation of winning inevitably will catch up with the Cubs. In a game dominated by analytics, the bottom line still rules. Even for a successful big-market team like the Cubs, a budget still matters.
Represented by agent Scott Boras, Harper and infielder Manny Machado figure to sign free-agent contracts that will help them surpass Yankees outfielder Giancarlo Stanton as baseball's highest-paid player. Stanton's 13-year, $325 million deal runs through 2027. If the Cubs are willing to make that sizable of an investment in a single player, it makes sense for that to be either Bryant or Javier Baez.
Baez, a legitimate MVP candidate, is baseball's best bargain at a salary of $657,000. Bryant, the 2016 MVP suffering through an injury-plagued season, earns $10.8 million this year but worth the Cubs locking up long-term. Baez is 25, Bryant 26. They are about to enter the primes of their respective careers. If the Cubs committed to keeping both players in the next year or so, the cost could exceed a half-billion dollars. How could the Cubs justify paying three of the 25 players on the roster - Bryant, Baez and Harper - nearly $1 billion?
Then what will the Cubs do about Schwarber, making a relative pittance of $604,500 in 2018? Or Hendricks, as steady as they come, earning $4.175 million? Eventually Addison Russell, under team control through 2021, might want his share, too. Reliever Carl Edwards Jr., his price likely to go up in October, is worth keeping. At the end of that long line of deserving key contributors, All-Star catcher Willson Contreras waits. And don't forget that the Cubs still owe Heyward $118.5 million through 2023, Lester $72.5 million through 2021 and Darvish $101 million through 2023. Somewhere, Ricketts' stomach churns. Major League Baseball's competitive balance tax, which increases to $206 million in 2019, is more than just a suggestion.
Sure, seeing Harper in a Cubs uniform would create a surge of excitement - one of the game's most compelling characters playing for one of baseball's most popular teams. Rumors that the Nationals were shopping Harper before the July 31 trade deadline stirred the social-media accounts of Cubs fans almost as much as the 2017 Instagram picture of Bryant and Harper in NL All-Star uniforms above the Las Vegas-themed hashtags "#702#Back2BackOne Day." The Cubs Twitter account only stoked speculation Wednesday by liking a tweet on the Nationals' official feed that called Harper "the best lead-off hitter in baseball." And, remember, Harper's dog is named Wrigley.
But wanting Harper on the Cubs is different than the organization needing him.
Is Harper - an attention magnet with 28 home runs, 71 RBIs and a slash line of .234/.378/.501 - worth all the hassle for the Cubs?
The sportswriter within me who appreciates Harper's flair for drama loves the idea of answering yes, cost be damned. But putting fiscal responsibility ahead of fun and placing a higher priority on reinvesting in the Cubs' core than reimagining their future, I have to say no.
___
ABOUT THE WRITER
David Haugh is a columnist for the Chicago Tribune.
Visit Chicago Tribune at www.chicagotribune.com
2018 MLB All-Star festivities (Provided by photo services)