World Series Preview: Mets over Royals in Seven Games based on 50,000 simulations

PredictionMachine
10/24/2015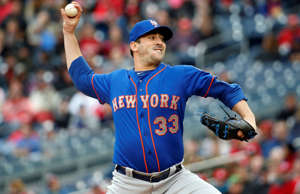 To come up with this analysis, the Predictalator uses current rosters and strength-of-schedule and ballpark-adjusted team and player stats to play, one plate appearance at a time, the World Series 50,000 times before it's actually played. The percentages in the table below represent the team's likelihood of winning in that many games.

After an all-Wild Card World Series last season, two division winners make it in this year. Great defense, dominant relief pitching, elite base running and consistently strong hitting (the Royals have the best average, on-base percentage and slugging percentage in the postseason) has yet again aided the Kansas City Royals in making the World Series. For the Mets, young, hard-throwing starting pitchers and slugging (mainly from Daniel Murphy) have powered New York to the NL pennant. Both teams are well-balanced, though the Mets win comparisons in starting pitching and power, while the Royals do everything else better. Ultimately, the team with better and deeper starting pitching, wins - BARELY. The New York Mets bring home the title 52.7% of the time.
The most likely scenario is the Mets winning the World Series in seven games, which occurs 18.0% of the time. As seen in the chart below, every possible type of series win happens at least 2,730 times in 50,000 simulations. The series goes to seven games 33.2% of the time and gets to at least six games 67.3% of the time.
It's difficult to speculate on player awards where human voting is included (though we highlighted Madison Bumgarner in this place last year), but if the pitching matchups shake out as anticipted, Noah Syndergaard, who chould get starts in Game 3 and Game 7 has as good a chance as any player in this series capping off his breakout second season with two wins to earn an MVP. Syndergaard and Steven Matz, who will likely only get one start in this series, key the Mets' depth with starting pitching. Both have a noticeable advantage over teh third and fourth best starters for the Royals. Furthermore, because of fatigue concerns with Jacob deGrom and Matt Harvey, who will start the first two games of the World Series, look for the Mets to lean on Syndergaard.
Kansas City - New York Series Odds (based on 2015 World Series played 50,000 times)
| Team | Wins Series | in 4 Games | in 5 Games | in 6 Games | in 7 Games |
| --- | --- | --- | --- | --- | --- |
| Kansas City Royals | 47.3 | 5.4 | 10.4 | 16.3 | 15.2 |
| New York Mets | 52.7 | 6.0 | 10.9 | 17.8 | 18.0 |
Simulate any MLB (or college football) bracket yourself to see series breakdowns and results after 1, 10, 100, 1,000 or 10,000 simulations with the new Bracket Simulator.
MLB World Series action opens Tuesday and PredictionMachine.com is your home for MLB Playoff picks and predictions. PredictionMachine.com will play each MLB playoff game 50,000 times and publish Money-Line (M/L), Run-Line (R/L) and Over/Under (O/U) selections for each game. Picks will be available two hours prior to the first pitch or 4 pm ET (whichever comes first) with notification via email.