Exaggerator wins the 2016 Preakness Stakes

SB Nation
5/21/2016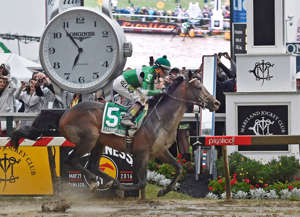 © Mike Stewart/AP Photo Exaggerator with Kent Desormeaux aboard wins the 141st Preakness Stakes horse race at Pimlico Race Course, Saturday, May 21, 2016, in Baltimore.

Before the Preakness Stakes, Exaggerator was 0-for-4 against the unbeaten Nyquist. After finishing 2nd in the Kentucky Derby Exaggerator came back to win the Preakness Stakes two weeks later. Well before Saturday, Exaggerator was known to love muddy tracks and the 2016 Preakness stakes proved to be no different. Unofficially, Exaggerator finished the race in 1:58.31.
Nyquist started the race strong and was challenged throughout by Uncle Lino who had 35-1 odds to win the race. Exaggerator at one point was 13 links behind Nyquist but continued to close the gap steadily throughout the race which had a very fast pace. Nyquist was forced to work hard early and Exaggerator stayed steady being able to pull away from the rest of the pack in the home stretch.
Exaggerator is trained by Keith Desormeaux and ridden by his Hall of Fame jockey brother, Kent. All eyes will now turn to the The Belmont Stakes which will be held June 11 in New York.