LeBron James had Anthony Davis over for Taco Tuesday

Larry Brown Sports
7/17/2019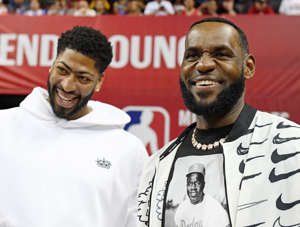 © 2019 Getty Images LAS VEGAS, NEVADA - JULY 06: Anthony Davis (L) and LeBron James of the Los Angeles Lakers arrive at a game between the Lakers and the LA Clippers during the 2019 NBA Summer League at the Thomas & Mack Center on July 6, 2019 in Las Vegas, Nevada. NOTE TO USER: User expressly acknowledges and agrees that, by downloading and or using this photograph, User is consenting to the terms and conditions of the Getty Images License Agreement. (Photo by Ethan Miller/Getty Images) Taco Tuesday seems to be one of LeBron James' favorite things in life. He's shared videos on social media in the past on Taco Tuesday in which he goes around the dinner table asking each member of his family what day it is. Of course, they're all eating tacos for dinner.
This week he shared more video clips on his Instagram Story for Taco Tuesday, but there was a special guest: his new Los Angeles Lakers teammate, Anthony Davis.
You know it's real when AD gets invited to LeBron's house for Taco Tuuuuuuuuesday

(via @KingJames) pic.twitter.com/WJ3F5b95Vk

— Yahoo Sports (@YahooSports) July 17, 2019
The other guest in the video was Dior Johnson, who is a travel ball teammate of Bronny James. Dior is a top prospect for the class of 2022 but will be playing at Fairfax High School in Los Angeles, not Sierra Canyon with Bronny.
The James and Davis clans seem to be get along quite well as the two stars get ready for their first season together on the Lakers.