Dean Smith willed $200 to each of his former lettermen

Larry Brown Sports
3/26/2015
By Steve DelVecchio
If you want to know a little bit about the type of person and coach Dean Smith was, look no further than his will and trust.
Smith, a legendary North Carolina basketball coach who passed away last month at age 83, has willed $200 to each of his former lettermen. Those who played for Smith during his 36-year tenure as head coach of the Tar Heels are all receiving a check.
RELATED: Tournament bracket
Each of Smith's former players received a letter along with a check.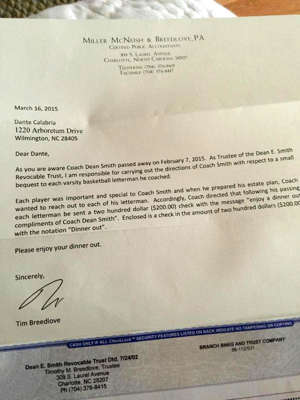 © Twitter Dean Smith estate letter "Each player was important and special to Coach Smith and when he prepared his estate plan, Coach wanted to reach out to each of his lettermen," the letter read. "Accordingly, coach decided that following his passing, each letterman be sent a two hundred dollar ($200.00) check with the message 'enjoy a dinner out compliments of Coach Dean Smith.' Enclosed is a check in the amount of two hundred dollars ($200.00) with the notation 'Dinner out.'
"Please enjoy your dinner out."
Goosebumps, anyone? Smith is one of the most respected coaches in the history of collegiate athletics. There's a reason UNC took time during a game to pay tribute to him after his passing. For people like Michael Jordan, we know the money means nothing. The same cannot be said of the thought.