ESPN Commits Horrific Fail With Houston-Ohio State Graphic

12up
3/24/2019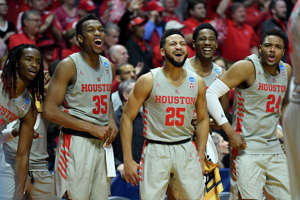 © (Photo by Harry How/Getty Images) CAPTION: TULSA, OKLAHOMA - MARCH 22: Fabian White Jr. #35, Galen Robinson Jr. #25 and Breaon Brady #24 of the Houston Cougars celebrate from the bench against the Georgia State Panthers during the second half in the first round game of the 2019 NCAA Men's Basketball Tournament at BOK Center on March 22, 2019 in Tulsa, Oklahoma.

​Heading into their ​NCAA Tournament Round of 32 matchup against Ohio State, the Houston Cougars are looking to channel the days of old and bring back the magic of Phi Slama Jama. 
The Houston teams of the first half of the 1980s were a college basketball sensation, and made three straight Final Fours with the likes of Hakeem Olajuwon and Clyde Drexler leading the way.
But if you were to ask ESPN, none of that happened. No, Phi Slama Jama actually dates back to the Victorian era:
That's... not correct.
Sure, it's not as massive a blunder as​ leaking the women's ​NCAA Tournament bracket hours early. But still, if you're the self-proclaimed Worldwide Leader in Sports, such bumbling graphics fails are inexcusable. 
We're told that this is the man who made the jerseys for that special 1894 Cougars team:
Whichever ESPN staffer forgot to switch the 8 and the 9 in there should get set for a long, long day of getting dragged on the internet. And we're doing our part right here, right now.
-----
Related slideshow: Best of the NCAA Tournament (provided by imagn)