Final Four's biggest questions
Sports on Earth
3/31/2017
RELATED:  NCAA Tournament bracket
As the Bulldogs, Gamecocks, Tar Heels and Ducks descend on University of Phoenix Stadium, here are the 10 biggest questions this weekend.

1. Will Joel Berry's ankles hold up?
Yes, plural.

The North Carolina point guard injured his ankle in the first-round win over Texas Southern and ended up finishing the first two rounds -- against the Tigers and Arkansas -- with a total of 13 points on 3-for-21 shooting from the field. It was clear that Berry wasn't himself, and UNC's ACC semifinal loss to Duke, when Berry sat much of the second half in foul trouble, showed just how valuable he is to this team. In the first weekend of the tournament, the result of the injury was North Carolina nearly getting eliminated by Arkansas.
Despite a second-half ankle scare, Berry looked healthier in the Sweet 16, shooting 8-for-13 and scoring 26 points in a dominant in over Butler, but his numbers fell off again vs. Kentucky, as he went 4-for-12 (0-for-5 from 3-point range) with 11 points and sprained his other ankle. Even with the stellar showing against Butler, Berry is shooting 32.6 percent from the field and 23.1 percent from beyond the arc in four NCAA Tournament games. In the regular season, he averaged 14.6 points per game, shooting 43.9 percent on field goals and 39.2 percent on 3-pointers.
It's hard to imagine the Tar Heels winning twice in Phoenix without at least one back-to-normal performance from Berry.
"I love Joel's competitiveness," UNC coach Roy Williams told reporters on Thursday. "I love that. There's times you have to temper it. I mean, he was mad because I wouldn't let him do anything in practice today in full court. And I went over and I said: Oh, you're mad, huh? That's good. He did nothing full court today, and I'm hopeful we'll get something out of it tomorrow."
2. Is the South Regional version of Luke Maye here to stay?
Maye's game-winning shot against Kentucky could be immortalized in North Carolina basketball lore, and rightfully so. But his game-winner wasn't the only impact he has had on UNC's run to the Final Four. Maye's sudden rise, in fact, was one of the most important stories in Memphis last week, as he has given the Tar Heels another key contributor with size, one who has shooting range, too.
A three-star recruit, Maye chose to enroll at North Carolina as a preferred walk-on, and he played just 5.4 minutes per game as a freshman. His role expanded this season, but he reached double figures in scoring only three times in the regular season. In the NCAA Tournament? The 6-foot-8 sophomore has hit double figures three times in four games. Maye had 10 points and nine rebounds in the first round. He recorded his first double-double in the Sweet 16 vs. Butler, making three 3-pointers and posting 16 points and 12 rebounds. Then, against Kentucky, he made two more threes and bested the career-high he set two days earlier, scoring 17 points thanks to the game-winning jumper.
!!!!!!!!!!!!!!!!!!!!!!!!!!!!!!!!!! #Elite8pic.twitter.com/GETD7qN2kG

- NCAA March Madness (@marchmadness) March 26, 2017
North Carolina proved all season that it can win big games without Maye being a star, but his tournament breakout gives the Tar Heels another strong rebounder and another weapon with size, one who can stretch opposing defenses out, too.
3. Can Gonzaga contain Sindarius Thornwell?
Thornwell has been the most outstanding player of the first four rounds of the NCAA Tournament. Voted SEC player of the year by the league's coaches, the 6-foot-5 senior has gone from good player for three years to All-American in his final year, living up to the substantial potential he showed as a recruit to lead the Gamecocks to their first tourney wins since 1973. It's taken a complete team effort, both with suffocating defense and newfound offensive support around Thornwell, but it's clear that the star wing has taken his game up another notch. He's averaged 25 points in the four NCAA Tournament games, putting up at least 24 in each game. He improved his outside shot, he gets to the free-throw line a ton and he's a strong rebounder, in addition to his terrific play on defense.
No, this isn't a one-mean team, but South Carolina needs Thornwell -- who arrived in Phoenix sick, missing Thursday's practice -- to continue playing at this ridiculously high level to keep winning, given its offensive vulnerabilities compared to the other teams left standing. After he put up 26 points against an excellent Florida defense, Thornwell now faces the most difficult matchup of the season. Gonzaga has KenPom's No. 1 defense, and it just held Xavier's Trevon Bluiett -- who had been on a Thornwell-like hot streak -- to 10 points in the Elite Eight. The Zags boast a smart, disciplined defense with length, athleticism and size. They have the No. 1 ranked field-goal defense against twos and are No. 4 against threes. It's so hard to get good looks against Gonzaga, and South Carolina entered the tournament as one of the worst shooting teams in the field of 68. If it's going to score against the Bulldogs, it needs Thornwell to continue peaking.
4. Can South Carolina force enough Gonzaga mistakes to win?
Gonzaga's defense thrives despite not forcing many turnovers. South Carolina's defense thrives because of the pressure it puts on opposing ball handlers. Frank Martin's Gamecocks play aggressive, suffocating defense, forcing turnovers on nearly a quarter of opposing teams' possessions, which ranks fourth nationally. The Gamecocks' guards are relentless, preventing clean looks at the basket and disrupting passing lanes. Offenses shoot just 30.1 percent from 3-point range, and they also don't get many points in the paint against South Carolina, either.
West Virginia, which has some similarities to South Carolina, forced 16 Gonzaga turnovers in the Sweet 16, but it shot so poorly that it lost by three. It was tied for the most times Gonzaga has turned the ball over in a game this season. Led by star point guard Nigel Williams-Goss, Gonzaga ranks 33rd in turnover percentage, but he had five turnovers and just two assists and shot 2-for-10 from the field against the Mountaineers. Gonzaga handles the ball well and generally does not beat itself, and while it struggled offensively against West Virginia, the experience of that game should benefit the Zags when facing the Gamecocks.
5. Can Oregon match up with North Carolina's size?
The question of whether Oregon's defense would hold up after 6-foot-10 senior Chris Boucher tore his ACL in the Pac-12 tournament has been emphatically answered, at least so far. While the Ducks did barely escape both Rhode Island and Michigan, they have reached the Final Four due in large part to the play of 6-foot-9 junior Jordan Bell, who's been a monster defensively. Bell has 50 rebounds in four games, recording three double-doubles. He had two blocks apiece against Rhode Island and Michigan, and he was particularly valuable in disrupting the flow of the red-hot Wolverines offense. Then, in the Elite Eight win over Kansas, Bell put up 11 points, 13 rebounds, four assists and eight blocks to play a massive role in the Ducks' upset.
With all that said, there is a lack of depth here -- the backup down low is 6-foot-11 junior Kavell Bigby-Williams -- and there's a big difference between the size of Kansas, which lacks post options, and the size of North Carolina. The Tar Heels, who are the nation's best offensive rebounding team, have a pair of veteran big men in Kennedy Meeks and Isaiah Hicks, in addition to freshman Tony Bradley. They're all at least 6-foot-9, 240 pounds, and they're three of the Tar Heels' five leading scorers. Throw in the growth of Maye and the versatile scoring of 6-foot-8 ACC player of the year Justin Jackson, and the Tar Heels can be a matchup nightmare for a team like Oregon that's undermanned, even if it seems like Bell has made up for Boucher's absence on his own.
"The rebounding battle is definitely going to probably be the one that decides the game, that and our defensive transition," Oregon coach Dana Altman said. "We've gotta get back and get our defense put together, because they're a wonderful transition team.
So the boards are a big concern. We're a little undersized in a few positions, and without Chris Boucher, our second-leading rebounder, our depth there is not very good. So it will have to be a priority for everyone is who is on the floor."
6. How much of an edge does UNC's experience provide?
North Carolina has been to the Final Four a record 20 times, while Gonzaga, South Carolina and Oregon have been to the national semifinals a combined one time since Oregon won the first tournament in 1939. For the players, this doesn't actually matter in terms of what will happen this weekend. What could matter, at least a little bit, is that North Carolina played in the Final Four last year, which means that most of its contributors (only Marcus Paige and Brice Johnson are gone) have Final Four experience. And there's coach Roy Williams, who has been to nine. The Tar Heels' players have dealt with all the attention, dealt with all the pressure and shot in a massive football dome before. It's easier to avoid distractions when the experience isn't new, and North Carolina will also go to Phoenix with a sense of unfinished business after last year's heartbreak. It can become the fourth team to win the national championship -- including the 1982 Tar Heels -- after losing in the previous year's championship game.
Of course, each of the past two national championship teams did it with players who had no Final Four experience. All four teams have already shown that they can thrive under pressure, winning four big games in a row to get to this point. All four teams are driven by upperclassmen with experienced lineups, even if UNC is the only that can say some of that experience came in the Final Four.
7. Can South Carolina stay out of foul trouble?
According to TeamRankings.com, South Carolina commits 20.6 fouls per game, sixth-most among teams from the six power conferences. Few players get into foul trouble more than forward Chris Silva, who has had had at least four fouls in six of the past seven games and has fouled out 10 times -- including six of South Carolina's final 10 SEC games. Meanwhile, center Maik Kotsar has fouled out in two of the four tournament games. Gonzaga gets to the free-throw line a decent amount, and it is filled with savvy veterans, plus a ton of size down low led by Przemek Karnowski, that could get the Gamecocks into foul trouble. Given the Zags' size -- and UNC's size in a potential title matchup -- foul problems in the post could spell doom for South Carolina.
8. Will the cavernous University of Phoenix Stadium throw off anybody's shooting?
Final Fours have been played in massive domed stadiums for two decades, but playing basketball in a big football stadium -- with unusual shooting backgrounds -- is a strange transition for anybody doing it for the first time. North Carolina has done it, but none of the teams played in domes in the all-arena regionals this year, and it's hard to know how shooters will react. Last year's semifinals were abysmal games, as Villanova blew out Oklahoma 95-51 (the Sooners shot 31.7 percent from the field) and North Carolina beat Syracuse 83-66 (the Orange shot 40.9 percent from the field and 4-for-13 at the free-throw line). Of the teams in this Final Four, Gonzaga and Oregon are among the nation's best shooting teams, while North Carolina is mediocre and relies on offensive rebounds and South Carolina spent much of the season ranked in the 300s in effective field goal percentage.
University of Phoenix Stadium. Home of the @FinalFour#Zagspic.twitter.com/wt1Ugdyt1p

- Evan Closky (@KREMEvan) March 31, 2017
9. Who will be the Final Four's most outstanding player?
To this point, the most outstanding players in the NCAA Tournament have been Thornwell and Oregon's Tyler Dorsey, who both average around 25 points per game and have made countless big plays to lift their teams unexpectedly to the Final Four.
Each of the four teams actually has a conference player of the year: Thornwell, Oregon's Dillon Brooks, Gonzaga's Williams-Goss and North Carolina's Jackson. The NCAA Tournament's most outstanding player is typically a Final Four MVP from the national champion, which is why Thornwell and Dorsey are tied for third (with Brooks) in SportsBook's odds, behind Jackson and Williams-Goss. Thornwell and Dorsey have been the best players through four games, but the consensus leans toward either Gonzaga or North Carolina as the national champion, putting their All-Americans in the best position to take home individual NCAA Tournament glory.
10. Will somebody make history?
North Carolina is making its record 20th Final Four appearance, and it is tied for the third-most championships with five. Two of those have come with Roy Williams as head coach, as he led the Tar Heels to the national title in 2005 and 2009 before coming so close to another last season.
Oregon has won a title, but it came way back in 1939 in the first-ever NCAA Tournament, which featured only eight teams.
It's been over a decade since a school won a national championship for the first time, dating back to Florida in 2006. The Gators promptly repeated to become a two-time champion. This weekend, North Carolina could add to its total or Oregon could add to its trophy case for the first time in most fans' lifetime. If not, then we'll see a first-time champion in Gonzaga, which hadn't played in the NCAA Tournament until 1995, or South Carolina, which hadn't won a tourney game since 1973 and had never advanced past the regional finals.
* * *
Contact Matt at matt.brown5082@gmail.com and follow him on Twitter @MattBrownCFB and Facebook.
PHOTOS: BEST OF THE NCAA TOURNAMENTS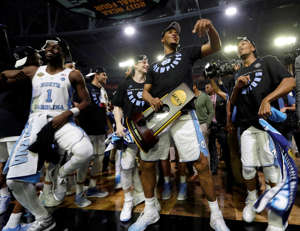 More from Sports on Earth

Sports on Earth