Marvin Bagley III suffered nasty poke to eye during Duke-Michigan State game

For The Win
4 days ago
Video by CBS Sports
Duke's star freshman Marvin Bagley III had to leave the Blue Devils' Champions Classic game vs. Michigan State in the first half after he was poked in the eye. The 18-year-old went back into the locker room and returned to the court for the second half, but he didn't start.
ESPN reported that Bagley didn't shoot at all before the second half started, and that he appeared to be having trouble opening the eye that was poked and wouldn't return.
Marvin Bagley took a finger to the eye. Ouch. pic.twitter.com/KROgIODbly

- David Morrow (@_DavidMorrow) November 15, 2017
I have arrived at United Center. Passed Marvin Bagley in a hall under the stadium. Was covering his right eye with a towel. Looked to be in discomfort.

- Scott Chasen (@ChasenScott) November 15, 2017
Bagley just put on his shooting shirt as the second half gets ready to start. It doesn't look like he's going to finish this one. Cool to see him come out to support his teammates.

- Darnell Mayberry (@DarnellMayberry) November 15, 2017
Hopefully it's not serious and Bagley isn't out for too much longer because he has already shown he can be extremely valuable to his team.
Marvin Bagley III heads to locker room after being poked in eye.

He's already the 1st freshman in Duke history with double-doubles in his 1st 2 games.

- ESPN Stats & Info (@ESPNStatsInfo) November 15, 2017
MORE:
Goddard responds to McGregor to clear up facts of Bellator 187 melee
Former Cavs GM David Griffin details Kyrie Irving's trade request and its root cause
Poker pro with three aces loses $343,000 pot in stunning hand
Kyle Shanahan on 49ers' looming free agents: 'There are guys I want back'
Boomer Esiason: Martellus Bennett is living a lie
Related Slideshow: Best of the 2017-18 college basketball season(provided by photo services)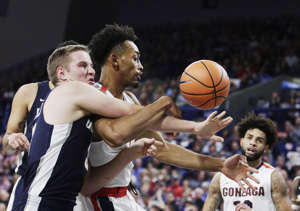 2017-18 college basketball season