Kirk Herbstreit Rips Into Fan for Calling Him Biased

12up
10/10/2018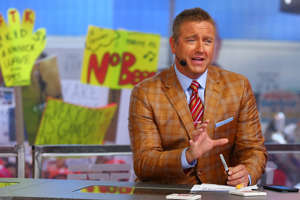 There's nothing better than a social media battle between a celebrity and a fan. 
It seems as if a few Twitter users struck a nerve with ESPN's College GameDay analyst Kirk Herbstreit. Herbstreit went blow-for-blow with the fans when they called him out for being biased against Ohio State. He eventually shut them down. 
Ashamed?! Of course I'm proud of Ohio State. And I'm also proud of my 23 year career of being impartial and fair. How is ranking Haskins on my weekly performances "embarrassed" or "biased" towards Ohio St. Its a simple observation of MY weekly performers-This is a REALLY OLD take https://t.co/T6UQ3wiGcJ

— Kirk Herbstreit (@KirkHerbstreit) October 9, 2018
The situation started when someone claimed that ​Herbstreit was prone to ranking Alabama ahead of Ohio State as the better team. The attacker claimed that Herbstreit was basing the ranking entirely off of the name and that Alabama hadn't proven nearly as much as the Buckeyes. 
Another college football fan jumped in to say that Herbstreit is reverse-biased against Ohio State, his alma mater. Yes, it's that confusing. 
The argument doesn't make much sense, really. Herbstreit ranked Ohio State's quarterback ​Dwayne Haskins as one of his top performers of Week 6. How is that going against his school? 
College football fans are crazy. They're willing to fight over anything, even being partial. 
Related slideshow: 2018 college football season (Provided by photo services)