5 blockbuster trade scenarios for Patriots to consider

Patriots Wire
6/22/2018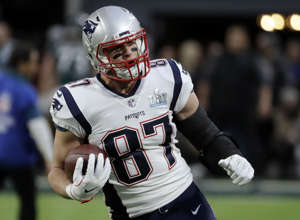 © (AP Photo/Chris O'Meara) New England Patriots tight end Rob Gronkowski (87), warms up before the NFL Super Bowl 52 football game against the Philadelphia Eagles, Sunday, Feb. 4, 2018, in Minneapolis. (AP Photo/Chris O'Meara)
The New England Patriots have a number of star players who are (or will be) angling for new contracts. New England has a pretty simple solution for players in those situations: Get rid of them and begin developing someone else.

With that history of ruthlessness in mind, here are five blockbuster trade scenarios Bill Belichick and the Patriots could consider.
1. Patriots trade Rob Gronkowski for two first-round picks
The Patriots seemed to have a number of suitors, if you believe the report that New England heard offers from the Tennessee Titans, the Detroit Lions, the Houston Texans and the San Francisco 49ers.
As those four teams are expecting to have successful 2018 seasons (and beyond), the Patriots would be fair to ask for two first-round selections in return for Gronkowski, who doesn't seem like he has retirement on his mind any longer (if he ever did). He wants a new contract, and he wants the freedom to train with the TB12 Method without criticism or skepticism. If he joined another team, he might have that freedom. It's just that he'd no longer be working one-on-one with Tom Brady.
Without a doubt, dealing Gronk would create a number of complications for the Patriots. But they seem like they've considered trading him before, which means they might just try to trade him again. For the right price, Gronk could be gone.
2. Patriots trade Shaq Mason for Seahawks S Earl Thomas
All the credit for the engineering of this trade goes to ESPN's Mike Reiss, who put together a deal that would send Mason to the Seahawks for safety Thomas, who would immediately get an extension upon arrival to New England. He wouldn't just bolster safety depth, he'd increase the level of talent among starters. That's why they'd be OK with giving an out-of-house candidate a significant extension upon arrival.
"As for the financial piece in acquiring Thomas ($13 million average per season, matching Berry), the Patriots would add three years and $39 million on to the end of the 2018 portion of Thomas' contract, allowing them to spread out salary-cap charges over four years. The $22 million guarantee at signing and $28.5 million guarantee overall matches the deal McCourty signed in 2015, which is always a consideration to maintain harmony in the locker room."
The Patriots often play with three safeties on the field, which would mean Thomas, Devin McCourty, Duron Harmon and Patrick Chung would have to take turns getting their snaps. But the diversity of skills in the group would make for excellent game planning options for the Patriots. Every one of those players is unique. They may have a wealth of talent, but they aren't redundant.
As for the guard position, the Patriots would use Joe Thuney to take over at right guard and Isaiah Wynn to start at left guard. The Patriots would part ways with Mason in the year before his contract expires without the knowledge that they can't afford him when he hits the market. Zach Martin's deal proved as much.
3. Patriots trade Trey Flowers for Panthers WR Curtis Samuel and a fifth-round pick
As much as Flowers has become a Belichick-favorite, he's also in the final year of his contract with the possibility of generating a Chandler Jones-type return in the trade market. The difference between Flowers and Jones, however, is that the Patriots may not see Flowers developing in the same way that Jones has with the Arizona Cardinals.
"The internal discussions on Flowers might very well be he's found his ceiling and he may not, as opposed to Mason, have his best football in front of him. The Patriots might be able to sell very high on him now, especially to a Bill Belichick-friendly coach/GM."
The Patriots can get three more years out of Samuel, who couldn't stay healthy and couldn't get enough touches in his rookie year. Samuel was a nice idea for the Panthers, but he's now going to be a fourth-string receiver (behind Devin Funchess, Torrey Smith and rookie D.J. Moore) and a second-string gadget player (behind Christian McCaffrey). They don't seem intent on engineering touches for Samuel. With so much offseason movement at receiver in New England, the Patriots could make good use of him immediately, including in the return game.
It's tough for the Patriots to weaken an already-weak edge position. But perhaps they'll see enough promise in second-year players Deatrich Wise, Derek Rivers and Adam Butler to make up for the loss of Flowers.
4. Shaq Mason for Vikings WR Laquon Treadwell and a third-round pick
Another blockbuster involving Mason, because the guard is their most blatantly tradeable piece. He's so talented that he figures to play beyond the Patriots' price range. And they have depth at the position.
The Patriots recover a third-round pick, which is what they would surely be due if Mason departs in free agency through the compensatory pick formula. They also get to work with a young and talented receiver in Treadwell, who has so far been a bust with the Vikings.
Treadwell excelled in the SEC, which is a quality the Patriots tend to covet. In his final college season, he had good games against Alabama (5 receptions, 80 yards, touchdown) and Auburn (7 receptions, 114 yards, touchdown). Perhaps they'll turn on the film and see a player who they have two or three years to salvage, as Treadwell was a 2016 first-round pick with a fifth-year option in his contract.
5. Patriots trade Trey Flowers for Chargers linebacker Denzel Perryman and a third-round pick
The Chargers have two of the best defensive ends in the NFL, but don't have a third player in the rotation. Flowers is also outrageously good in the interior on third down, which would make the Chargers pass rush even more terrifying. Both Perryman and Flowers have expiring contracts, but the Patriots have a more realistic chance of inking Perryman.
With Perryman's injury history, the Patriots would also be selling high on Flowers and buying low on the Chargers linebacker.
The Patriots' linebacker position has depth, but it doesn't have top-end talent. Perryman would be an immediate upgrade at outside linebacker with superior athleticism and, when healthy, production. Perryman would join a group of versatile linebackers who can play both inside and outside. He, Kyle Van Noy and Dont'a Hightower would likely be the group's starters.
The third-round pick helps sweeten the deal, as there is a sizable gap in talent between Flowers and Perryman.
MORE:
Spurs legend David Robinson's message for Kawhi Leonard
VIDEO: Baker Mayfield Put on a Show Debating Colin Cowherd
Packers backup QBs struggle during offseason practices
UFC Shanghai staff picks: Only three giving 'Cowboy' nod over Edwards
Related slideshow: Best images of Super Bowl LII (Provided by photo services)