Carson Wentz Sends Emotional Farewell to Frank Reich After He Took Colts Job

12up
2/12/2018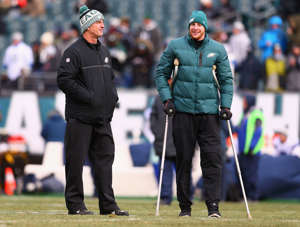 © Photo by Mitchell Leff/Getty Images PHILADELPHIA, PA - DECEMBER 31: Injured quarterback Carson Wentz #11 (R) talks with Offensive Coordinator Frank Reich (L) before the game against the Dallas Cowboys at Lincoln Financial Field on December 31, 2017 in Philadelphia, Pennsylvania. There's not much that can bring the Philadelphia Eagles back down to earth just yet with the confetti still falling and the team still flying high from its recent Super Bowl win. 
But a deeper look into some of the coaching staff movement going down the past week could raise some sense of concern.
Former quarterbacks coach John DeFilippo is now the offensive coordinator for the Minnesota Vikings and now former offensive coordinator Frank Reich is the head coach for the Indianapolis Colts. Those are two major players responsible for the Eagles offensive success last season, and players will notice both men's absence. 
Especially Carson Wentz, who took time out Sunday morning to express his appreciation for his former coordinator.
Lookin' good Coach! Gonna miss working with you. Wish it didn't have to end but it was an unbelievable two years! Can't thank you enough!

Indy, you got a great one! https://t.co/IkfCuxi0I9

— Carson Wentz (@cj_wentz) February 12, 2018
With Reich and DeFilippo gone, the team will need to begin their plan of succession and promotions within the staff to counter the loses. Look for running backs coach Duce Staley to be a candidate for either position before 2018's season officially begins on March 14.
As for Wentz's response, it just shows how together this team is, and that chemistry alone was a big part as to why Philly were the ones left hoisting the Lombardi Trophy in February.