D.J. Swearinger targets Texans for revenge: 'Houston bashed my name'

Yahoo! Sports
11/14/2018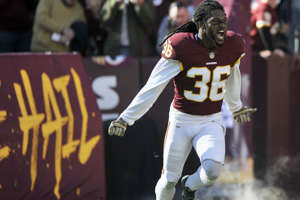 Washington Redskins safety D.J. Swearinger is in the midst of one hell of a revenge tour, securing wins against two former teams in Arizona and Tampa Bay. But the red-white-and-blue whale still lurks out there for Swearinger, and this weekend, he'll get his chance for a bit of payback against the team he says did him wrong: the Houston Texans.
'They really said that about me?'
"Houston bashed my name pretty bad," Swearinger said recently, per ESPN. A second-round pick in 2013, Swearinger played one season under then-head coach Gary Kubiak. When current Texans head coach Bill O'Brien arrived, matters turned ugly for Swearinger, and he was released in the summer of 2015. Signed days later by the Tampa Bay Buccaneers, Swearinger claimed that Houston had been running him down behind his back.
"I remember my first interview with [then-Tampa Bay coach] Lovie [Smith], he asked me about all the things Houston bashed me on," Swearinger said. "I was sitting there shocked, like, 'They really said that about me? This is horrible.'"
From Swearinger's perspective, Kubiak let him play a more freestyling brand of defense, lining up at middle linebacker, where O'Brien cracked down and put him at safety, expecting him to toe the line. Repeated spats caused the Texans to bench Swearinger for three games during the 2014 season, Swearinger said. He offered up the broad outlines of a rationale in an Instagram post:
A post shared by Dj Swearinger (@jungleboi_swaggg) on Nov 13, 2018 at 11:37am PST
O'Brien doesn't engage
In a conference call with reporters prior to the game, O'Brien sidestepped the issue, noting that he wasn't sure what Swearinger was talking about, and that maturity wasn't an issue. "Every player that comes into the league, no matter who you are, it is a tough transition from college to professional football," O'Brien said. "Then on top of that you have a coaching change that D.J. had to deal with."
Clearly not looking to give Swearinger or the Redskins any extra motivation, O'Brien took the highest of high roads. "You just try to make decisions in the best interest of the team," O'Brien said of Swearinger's release. "D.J. made a lot of plays for us here. He's a very instinctive, tough, competitive player. He's obviously gone on to Arizona and now in Washington and he's … doing a great job, has got excellent ball skills, good tackler, tough, competitive guy. He's going to be a challenge to go against on Sunday."
So far in 2018, Swearinger has 34 tackles and seven interceptions, as well as one sack and two forced fumbles. He'll need to add to that total to keep Washington competitive with Houston, but he's got plenty of motivation to do so.
____
Jay Busbee is a writer for Yahoo Sports. Contact him at jay.busbee@yahoo.com or find him on Twitter or on Facebook.
More from Yahoo Sports:
• Dan Wetzel: Mexico City game teaches NFL a lesson
• Serena Williams's GQ cover sparks outcry
• College cancels football after 53rd straight loss