FAA Emails Show NFL Was 'Freaking Out' Over Anti-Dean Spanos Flyover Banners

The Big Lead
11/14/2017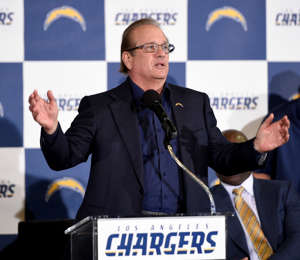 © Kelvin Kuo/AP Photo In this Jan. 18, 2017, file photo, Los Angeles Chargers owner Dean Spanos speaks to the crowd to introduce the Los Angeles Chargers to the Los Angeles area during an NFL football news conference in Inglewood, Calif. The NFL and Roger Goodell were so worried by anti-Dean Spanos and anti-NFL banners flying above StubHub Center during Los Angeles Chargers games, that they used their considerable influence to stop them.
According to emails obtained by ABC's 10 News in San Diego, the NFL was "freaking out" about the banners and did not want them flying above the stadium when Goodell was in attendance on October 1.
The FAA bans flyovers for venues with a capacity of 30,000 or more, and StubHub only seats 27,000. Therefore, the league could do nothing to prevent them. Then, suddenly, the FAA permitted a temporary flight restriction to stop the flyovers during games. The newly-released emails shed light on to how and why that happened.
Shows the league was clearly concerned with the anti-NFL, anti-Spanos banners flying above Stub, despite what they said to the contrary. https://t.co/FqBhlORzZw

- Annie Heilbrunn (@annieheilbrunn) November 14, 2017
From the 10 News report:
Officials told the FAA that the Chargers upgraded the venue before the season, expanding the stadium to 30,000 seats, even though they don't sell all of them. An FAA special agent viewed those seating areas a few days before the Oct. 1 game, and agreed, according to the emails.

The restriction then went into place.
The NFL has repeatedly claimed the restriction was sought due to safety concerns, but the emails suggest a different motive. The league was embarrassed by the flyovers and didn't want them happening during games.
Joseph MacRae, the fan behind the banners, has not been discouraged by the ruling and says he will continue funding the flyovers during Chargers games at StubHub.
It's clear the NFL was lying about this. They continue to cover for the disaster that is the Spanos family's move to Los Angeles.
MORE:
Goddard responds to McGregor to clear up facts of Bellator 187 melee
20 mind-blowing stats from the 2017 NFL season
LeBron James takes veiled shot at Kyrie Irving: "It's been a while" since he's had a playmaking scorer with him
Kyle Shanahan on 49ers' looming free agents: 'There are guys I want back'