Former Steelers, Texas Tech DT Gabe Rivera, who was paralyzed in car accident, dies at 57

USA TODAY SPORTS
7/17/2018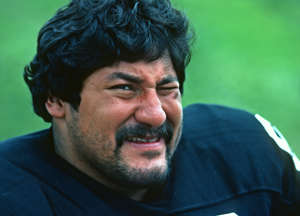 © George Gojkovich/Getty Images LATROBE, PA - JULY 1983: Defensive lineman Gabe Rivera of the Pittsburgh Steelers looks on from the field during summer training camp at St. Vincent College in July 1983 in Latrobe, Pennsylvania. (Photo by George Gojkovich/Getty Images) Former Texas Tech football star and Pittsburgh Steelers defensive tackle Gabriel Rivera died Monday at the age of 57.
Rivera's death, which was first reported by KENS-TV in San Antonio, was confirmed Tuesday morning by Texas Tech, where he was a consensus All-America selection in 1982.
"Gabriel went home to the Lord at 9:25 (p.m.)," his wife, Nancy Rivera, told KENS-TV in a text message.
Rivera, who was inducted into the College Football Hall of Fame in 2012, had been in critical condition in recent days due to a perforated bowel, according to the television station.
A San Antonio native who earned the nickname "Señor Sack," Rivera was one of the most dominant defensive linemen in the country during his time at Texas Tech, earning All-America and Southwest Conference defensive player of the year honors in 1982. He was picked No. 21 overall in the 1983 NFL draft by the Steelers.
But then, after recording two sacks in six games as a rookie in Pittsburgh, Rivera was paralyzed in a car crash on his way home from practice. According to KENS-TV, he was legally intoxicated at the time and crossed into an adjacent lane, colliding with another car.
"From the accident in '83, it took maybe five, six, eight years to get control (of my life)," he told the Associated Press in 2012. "At one time, I just changed my life and started going forward."
More recently, Rivera spent his time volunteering as a tutor with Inner City Development Center, a nonprofit in San Antonio, according to KENS.
MORE: Barry Sanders at 50: Here are 20 tales about No. 20 you might not know
MORE: Seahawks' Earl Thomas: Give me contract extension or 'let's make a trade happen'
Contact Tom Schad at tschad@usatoday.com or on Twitter @Tom_Schad.
Related slideshow: Notable sports deaths in 2018 (provided by photo services)