The best, worst, and weirdest commercials from Super Bowl LI

Yardbarker
2/6/2017
And, lucky for you (and your gastrointestinal tract), many of the commercials that aired during the game are already on YouTube so that you can re-live them in all their glory while you spend the rest of the night in the bathroom trying to deal with the gastrointestinal stress all that chili caused. Since you're already there, we might as well get started. Without further ado, here are the best, worst, and weirdest ads from this year's game.
This is, essentially, a minute long, five-million dollar poop joke. And that's a movement that I can get behind.
I dare you to watch this commercial and not think of the dancing Six Flags guy. From Gronk's uncomfortable performance as a caveman to Justin Bieber flailing around like an idiot, the whole thing just seems focus-grouped into oblivion, blatantly pandering to "millennials" without, you know, actually being entertaining at all.
This is one of my personal pet peeves. It's the Super Bowl, Wendy's. You've paid millions upon millions of dollars for the spot. Why waste it by just airing a commercial that is, for all intents and purposes, the same "we use fresh beef" commercial you've been running for ages? Try harder, Wendy's.
Everything about this commercial is perfect, from Mr. Clean's uncanny-valley face, to his swimmer's physique, to his impeccably sculpted butt, to his rippling forearms... I'm sorry, I got a little distracted. What were we talking about?
First of all, this commercial falls into the same category as the Wendy's one above, in that it has been airing prior to the Super Bowl. Second of all, it's just... creepy. Especially that part where the yolk leaks out of his mouth. I dry heaved the first time I saw it. I don't like this one. Take it away. Let's go to the next one, please?
Wix gets credit here for creating a one-minute teaser for a movie that will never come out, but that I also really want to see. I mean, come on, Gal Gadot and Jason Statham fighting baddies in a high-end French restaurant? Yes please. Sure, I don't really remember what is being sold to me here, but the fight was awesome.
I wanted this series of ads to be good very badly. It's a great idea! The "Who Is John Malkovich" joke is a good one, and something that can be built around. Unfortunately, the ads dance around the actual joke, and because of that, they never really land the way they probably should. It's not a bad ad per se, it just doesn't live up to its potential.
Kristen Schaal absolutely kills it here, with an ad that's just uncomfortable enough to make you feel very awkward if you happened to watch the big game with relatives around.
I don't know about this one. It seemed to want to skate along on star power, but Terry Bradshaw couldn't carry the commercial on his own, and Jeffrey Tambor wasn't in the ad for long enough to save it. This one seemed like another case of an ad being focus-grouped too much to be entertaining.
I feel bad for laughing so much at this one, because at the end of the day, this ad was technically about Cam Newton hitting small children very hard.
Of course, these aren't the only ads that people will be talking about after the big game. Here are a few other ads that bear mentioning.
Is It Out Yet?: Stranger Things Season 2
They really went straight for the jugular on this one. The trailer for season 2 of the brilliant Stranger Things is dripping with nostalgia, and tugged at the heartstrings of anybody around long enough to be familiar with those old Eggo waffle commercials.
Haha, I'm Definitely Not Crying: Audi
No... no, it's nothing. Jeez, my room just got all dusty for a second. I definitely wasn't openly sobbing at a car commercial that unapologetically pushes for women's rights, that would be weird! I'll be fine as soon as you all stop chopping all of these onions.
D'awwwwwww!: Super Bowl Babies
Sure, they do something like this every year, but it's somehow infinitely better when all of the babies are dressed up as football personalities. And though it wasn't as cute as the Puppy Bowl was, it came darn close.
BEST PHOTOS FROM SUPER BOWL LI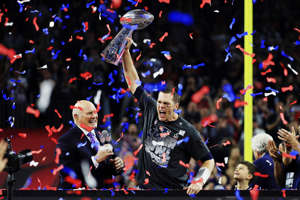 Hey sports fans! Have you ever wanted to see extreme close-ups of 5-time Super Bowl champion Tom Brady's mouth while he yawns, brushes his teeth, and stuffs a pancake he dropped into it? No? Well, too bad. Because Intel is bringing its gross Intel 360 technology to Tom Brady's house. Gross.