The secret superstars of the NFL's Championship round

Touchdown Wire
1/18/2019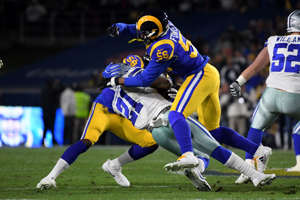 In every playoff game, just as surely as so many of the stars of every team will stand out, there are those unexpected contributors who will rise out of the status of the relatively unknown to make game-deciding impacts. With four NFL teams left in the tournament, here are 12 players who could tilt the field and help their teams on the way to Super Bowl LIII.
Los Angeles Rams
EDGE Dante Fowler, Jr.
Though they have the NFL's most dominant defensive lineman in Aaron Donald, Wade Phillips' defense was pretty light on edge-rushers early in the season. Putting Ndamukong Suh on the edge at times was an interesting solution, but more was needed. Trading for ex-Jaguars pass-rusher Dante Fowler, Jr. in late October was a bit of a risk given Fowler's inconsistent production and off-field travails with his former team, but so far, Fowler has provided what the Rams have needed. Per Pro Football Focus, Fowler has amassed 25 total pressures and 13 stops in nine games. Given Drew Brees' sub-pas performance under pressure this season, Fowler must maximize his efforts against the Saints in the championship round.
S John Johnson III
While most of the talk about the Rams' secondary is about which cornerback will cover Saints superstar Michael Thomas (based on past performance, it really should be Aqib Talib instead of Marcus Peters), having great safety play against Sean Payton's multi-level offense is also a must. Johnson has 90 tackles and 33 stops this season per PFF, and though he's struggled in coverage at times, he's an excellent middle of the field defender, especially when the Rams turn to their nickel and dime packages. Given how often the Saints exploit defenses with short and intermediate passes, Johnson's performance will be key.
RB C.J. Anderson
So, where did this guy come from? Released by the Broncos, Panthers, and Raiders this season, Anderson was signed by the Rams on December 18, and all he's done since then is rush for 299 yards and two touchdowns on 43 carries in two regular-season games, and 123 yards and two more touchdowns on 23 carries in the Rams' divisional win over the Cowboys. Acquired primarily due to Todd Gurley's late-season injury issues, Anderson now presents defenses with a new problem-with a passing game as diverse as any in the league, and a heathier Gurley ripping it up outside, one now has to prepare as well for Anderson's inside power. If he's able to replicate his previous feats against a Saints defense that will definitely miss injured interior lineman Sheldon Rankins, Anderson may be the force that propels his new team to the Super Bowl.
New Orleans Saints
CB Eli Apple
When the Saints traded a couple of low draft picks to the Giants for Apple in October, it wasn't seen as a big deal. But Apple has allowed the team to do more of what it does well-play man defense. Per Sports Info Solutions, the Saints moved from a 31.7% man coverage rate to 43.3% since acquiring Apple. This has resulted in a drop of 26 passing yards per game, 21 points in opposing quarterback rating, and a jump from 30 th to fourth in Pass Defense Points Saved. One of the higher-targeted cornerbacks in the second half of the season, Apple has allowed just 48 receptions on 83 targets for 657 yards, three touchdowns, two interceptions, and an opposing passer rating of 85.3. Those aren't lockdown numbers, but Apple has taken this secondary from below average to above, and that may be all the Saints need.
EDGE Alex Okafor
When the Saints lost defensive tackle Sheldon Rankins to a torn Achilles tendon in their win over the Eagles in the divisional round, it put a severe stress on the front seven, as the team doesn't have another transformational interior player. Defensive coordinator Dennis Allen may adjust to this by playing end Cameron Jordon inside more often, because Jordan is excellent in both spots. If this happens, someone's going to have to pick up the slack in the edge-rush department, and Okafor is qualified to do that, along with first-round rookie Marcus Davenport. This season, Okafor has been good for 40 total pressures and 19 stops.
ILB Demario Davis
Sometimes, it's the little-heralded signings that make the biggest difference on your defense. New Orleans inked Davis, the former Jets and Browns linebacker, to a three-year, $24 million contract in March, and he's been a mainstay all season. He's able to bring pressure on blitzes, fly from sideline to sideline against the run, and provide credible coverage on short and intermediate passes. One of the most underrated defenders in the NFL, Davis will be a huge factor in stopping the Rams' awesome rushing attack.
Kansas City Chiefs
RB Damien Williams
The Dolphins never seemed to know what to do with Williams during his four seasons there, which makes sense when you consider the franchise's aptitude for personnel misuse in recent years. When the Chiefs signed the free agent in March, it was mostly to provide depth behind Kareem Hunt. Of course, nobody suspected at the time that Hunt's off-field issues would lead to his release in late November. Thrust into the spotlight in the league's most explosive offense, Williams has held up his end, and then some. He's not as versatile as Hunt was in the passing game, but he brings a power and shiftiness to the offense that allows Andy Reid and his staff to scheme up more power-based stuff. When the Chiefs played the time-of-possession game against the Colts in the divisional round, it was Williams who allowed that to happen as he gained 129 yards and scored a touchdown on 25 carries.
RT Mitchell Schwartz
Winner of Pro Football Focus' Matthews Award as the NFL's best offensive lineman, Schwartz has been relatively dominant all season against some of the game's best edge-rushers, and given the right-handed nature of Kansas City's offense when Patrick Mahomes rolls out of the pocket and starts improvising, it's arguable that no other tackle is as important to the upper structure of his passing game. Schwartz has allowed four sacks and 22 total pressures in 1.127 total snaps this season, and he's just as impressive when run-blocking at the line and up to the second level.
CB Charvarius Ward
Ward had already overcome a lot by the time the Chiefs picked him up as an undrafted free agent out of Middle Tennessee. He had limited playing time until the end of the season, but he made the most of his opportunity when it came. Ward was burned a bit by Seattle's passing game in Week 16, but against the Colts in the divisional round, he allowed just four catches on eight targets for 42 yards. For a rookie, Ward has an intriguing technique level-he's capable of following a receiver through any foot fakes at the line of scrimmage, carrying his assignment through intermediate and deep routes, and timing his deflections well.
New England Patriots
DE Trey Flowers
Flowers will be a free agent at the start of the new league year unless the Patriots sign him to an extension, and you can bet that someone's going to pay him as the dominant defensive lineman he's become. In the 2018 season, he's been good for 10 sacks, 69 total pressures, and 38 stops, and he's been especially good at presenting a consistent pass rush in recent games. Able to play inside and outside, Flowers has the positional versatility required in Bill Belichick's defenses, and coveted more and more throughout the league.
RB James White
The Patriots beat the daylights out of the Chargers in the divisional round with a running game that hailed back through the NFL eras to combine several highly effective schemes. That was the work of New England's offensive line and star back Sony Michel, but White also made his mark in a quieter way with 15 catches on 17 targets for 97 yards. As a short-to-intermediate receiver, White has a knack for winning all along the formation, and he has a special ability to snag openings against zone coverages. He'll test Kansas City's linebackers and safeties throughout the conference championship.
RG Shaq Mason
The 2018 season marked the first time in a long time that the Patriots could really scheme their offense entirely though their offensive line. That's been especially true in the running game, where Mason has the agility and power to dominate anybody he faces. When New England faced Kansas City in Week 6, Mason didn't allow a single pressure against the team that led the league in sacks, and has one of the best interior linemen in Chris Jones. Mason has given up just one sack and 18 pressures in 1,033 snaps this season, and his effort will be just as pivotal in this game as it's been all season.
MORE:
Viral UCLA gymnast's routine was so difficult it wasn't even covered in the rulebook
Roundup: Jack Dorsey Looks Rough in Interview, Cubs Fans Are Anxious, New Motorola Razr
POLL: Vote for the Super 25 Girls Basketball Top Star, Week 6
Important dates of the Lions 2019 offseason
Derek Carr on free agency: 'People want to come play for the Raiders'
Video by NFL.com