Tom Brady Passes Peyton Manning for Most Passing TDs in NFL History

12up
12/9/2018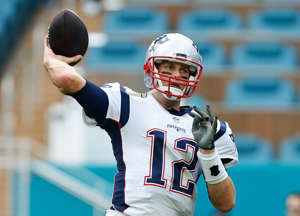 This is yet another milestone for one of the best players to ever play the game.
Tom Brady has just passed Peyton Manning with 580 passing touchdowns. Brady now has the most passing touchdowns of all time, including the playoffs. 
Tom Brady just passed Peyton Manning for most passing TDs (580, including playoffs) in NFL history.

— NFL Update (@MySportsUpdate) December 9, 2018
What an impressive feat for one of the best to ever do it. This particular pass comes against the division rival Miami Dolphins. Brady now has 20 passing touchdowns this season and is sure to have more as the regular season winds down. Brady continues to prove his doubters wrong with stunning performances week after week. 
Props to Brady for still being able to dominate late into his career. He's surpassed many other legends to help his case for greatest of all time. The GOAT shows no signs of slowing down despite being one of the oldest players in the league. I wonder how many NFL touchdowns this guy will have when it's finally all said and done for him. Truly amazing. 
Related slideshow: Greatest athletes in the world right now (provided by Touchdown Wire)