Where does White rank on the list of greatest U.S. Olympians?

Olympics Wire
2/14/2018
Shaun White already had his place in history; Wednesday was all about legacy building. And after his historic, come-from-behind, walk-off gold medal win in the halfpipe, White's became as big as ever, getting a signature win that puts him on the short list of the greatest athletes of his generation.
In terms of Winter Olympians, the honor is his alone. White won his third gold medal in the same event, something only four other men from any country can boast. He left behind a pack of nine Americans with two golds to join the exclusive, two-person club of athletes with three golds or more: Eric Heiden and Bonnie Blair.
And White did all that with pressure that would have been unimaginable if you hadn't been feeling the same thing in your living room. If he'd failed on that final run, the last eight years would have been considered an athletic disappointment. That fourth in Sochi still stings, but the silver in Pyeongchang would have hurt even more. Having gold in your hand and letting it go - that's far worse than a few bad runs on a mushy track in Sochi.
But the greats don't think like that. Shaun White dropped in and laid down a flawless run to take back the Olympic title he'd given away in 2014. The legend had grown.
Where does that legend leave White on a list of modern-day Olympic heroes? We looked at every athlete - from the Winter or Summer Games - since 2000 and present the list of the 10 best Olympic athletes of our generation.
1. Michael Phelps
Now that they're etched in stone, the numbers don't seem real. Twenty-three golds, three silvers, two bronzes. Phelps had the all-time greatest Olympics in history (Beijing 2008) and had at least four races where he was somehow able to get to the wall first despite seemingly having no chance just a few meters before. Phelps wasn't just a great front-runner, he could step up in those pressure-packed moments, just as White did on Wednesday. His Olympic records will never be broken. He's the best athlete of this, or any, generation.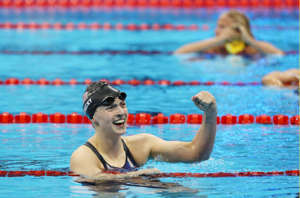 2. Katie Ledecky

Ledecky was a surprise member of the U.S. team in 2012 - at 15 she figured to have wait until 2016 for her first shot at the Olympics. But she dominated the 800 at U.S. Trials, vanquished the field at the Olympics (where she was the youngest member of Team USA) and then came back four years later to win three individual golds (the 200, 400 and 800 free - disciplines that don't usually overlap) and add another in a relay. Ledecky isn't done yet and by the time her career is over, she could be the most decorated Olympic athlete not named Phelps.
3. Shaun White
No Winter Olympian from Team USA had won three gold medals in the last 25 years. With his Valentine's Day Miracle, White became a category unto his own, only trailing Eric Heiden and Bonnie Blair for most golds ever won by an American at the Winter Games. Neither of them have competed in the last 20 years.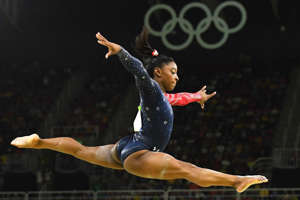 4. Simone Biles
Though she's only been in one Olympics, Biles earns a spot near the top of this list anyway thanks to her staggering showing in Rio - four golds (including the team event) and a bronze on the balance beam. No American woman had ever done better.
5. Bode Miller
Miller had the most successful Olympic career for any American skier. That might seem surprising given that his most famous moment at the Games came in 2006, when he was talked about as a five-medal hopeful then walked away with nothing following a series of disappointments. But he got back on the podium in Vancouver (winning his first and only gold) and capped off the career with a bronze in Sochi. Miller won six medals (1 gold, 3 silver, 2 bronze) over four Olympics and is one of just five skiers, male or female, to win an Olympic medal at four different disciplines.
© Provided by Fox Sports

6. Apolo Anton Ohno
Ohno has the most Winter Olympic medals (8) of any American in history and some of his medals - the two golds (the 1500m in Salt Lake City and the 500m in Turin) and one of the silvers (the 1000m in Salt Lake) - are among the most memorable moments of the last century.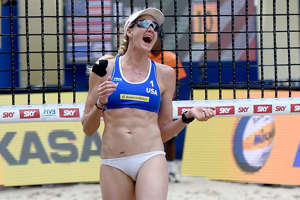 7. Kerri Walsh
Walsh won three gold medals in beach volleyball with partner Misty May-Treanor and then, after her partner's retirement, took home bronze in Rio alongside April Ross.
8. Julia Mancuso
Nobody will ever say Julia Mancuso was a better skier than Lindsey Vonn, who's the most successful skier in American history and on a short list of the greatest of all time. But disappointments and injury have hindered Vonn's Olympic success. Mancuso, on the other hand, peaked in skiing's biggest event. Her four medals (one gold, two silver, one bronze) are the most for any American women's skier. And while the world waits for Vonn or Mikaela Shiffrin to one day pass that total, the mark is Mancuso's until (or if) they do.
9. Ryan Lochte
Get all the jokes out now. Go on, I won't hold you up. But putting aside his Rio ridicule, Lochte will go down as the third-most successful men's swimmer in history. He won seven individual medals (two gold) and five relay medals (four gold) in his 12-year Olympic career. Those 12 medals are tied for eighth all time. Natalie Coughlin, a contemporary of Phelps and Lochte, also won 12 medals but Lochte's haul was more golden and a little less reliant on relays.
10. Allyson Felix
It's a big nitpick when you're critiquing six gold medals, but Felix's haul needs a big asterisk next to it because five of those wins came in relays. But three individual silvers to go with the one individual gold and all that relay glory combined to make one of the 10 best Olympians of our era. Easily.
[Celebrate Shaun White with this White Gold shirt from BreakingT.]
MORE:
Watch Shaun White's unbelievable final run to win gold
Kenyon Martin thinks LaMelo, LiAngelo Ball can play with Lonzo...in Lithuania
Rogan: Mayweather has no chance vs. McGregor, but CM Punk different
2018 NFL mock draft: Updated 3-round projections with trades
Elfrid Payton on being traded from Magic to Suns, Phoenix's young core and his interest in re-signing
Next Story
What each MLB team must do after winter meetings