11 Funky Mardi Gras Parades You Didn't Know Existed

Travel + Leisure
1/21/2016
The best way to enjoy
the Carnival season
is to recognize the many funky, offbeat, and alternative parades, customs, parties, and people that truly represent the
rich cultural tapestry that is New Orleans
. Here are our picks for what not to miss.
1. Krewe du Vieux Parade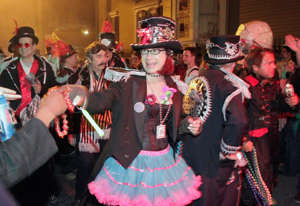 © Bill Haber/AP Photo Members of the Krewe du Vieux parade through the streets of New Orleans to celebrate the Mardi Gras Season. While Twelfth Night on January 6 serves as the official kick-off to the Carnival season, it's the subversive and satirical Krewe du Vieux (this year, it was held on Saturday, Jan. 23) that helps kick off the parades. Not a "krewe" in the traditional, blue-blood sense of the word, Krewe du Vieux is nevertheless blue, indeed, and more than a little salty. Sub-krewes with names like "Spank," "T.O.K.I.N.," and "Drips and Discharges" parade the old-fashioned way, with mule-drawn floats (heralded by several brass bands) that skewer everything from local politicians to national figures through the Faubourg Marigny, French Quarter, and Central Business District neighborhoods before settling into an after-party at the Civic Theatre. (The smaller Krewedelusion, another satirical procession, follows right behind this one.)
2. Krewe of 'tit Rex
© 'tit Rex via Facebook Krewe of 'tit Rex member preparing for the Parade. For decades, New Orleans schoolchildren would fashion Carnival floats out of shoe boxes. Now there's a whole parade of them (Saturday, Jan. 30), courtesy of 'tit Rex, about as street-level a procession as one can imagine. (The floats are so tiny, krewe membership has been capped so as not to overwhelm members' own work.) A loose coalition of some of New Orleans' most creative artists, journalists, and entertainers, 'tit Rex's membership includes Broadway and TV star Michael Cerveris ("Fun Home," "The Good Wife"), and the floats often embody the same satire (politically and socially) of the Krewe du Vieux parade (though without as much raunch). The mini-parade rolls through the Faubourg Marigny just before and after sunset.
Photo: 'tit Rex via Facebook
3. Intergalactic Krewe of Chewbacchus Parade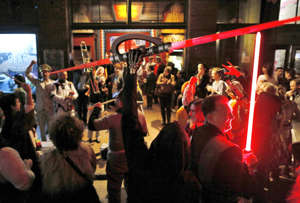 © Jonathan Bachman/AP Photo Members of the Intergalactic Krewe of Chewbacchus gather in front of a bar in the French Quarter, in New Orleans. Imagine a fantasy or comic book convention as a parade. Chewbacchus—a combination of the legendary "Star Wars" character Chewbacca and the Carnival krewe Bacchus—moves downriver (Saturday, Jan. 30) from the French Quarter in Faubourg Marigny and Bywater just after sunset (and after Krewe of 'tit Rex, on a nearby route). Its motto: "Saving the galaxy ... one drunken nerd at a time." Sub-krewes pay homage to myriad comic book, sci-fi, and fantasy icons: "Star Wars," "Star Trek," "Dr. Who," and "Wonder Woman" come to mind, along with a cherished favorite, the bicyle-riding, "E.T."-inspired "Rolling Elliots." The krewe has become so popular even Chewbacca himself, actor Peter Mayhew, rode one year as the grand marshal. The "Chewbacchanal" after party will be held at Castillo Blanco Art Studios in Bywater.
4. The Art of the Tease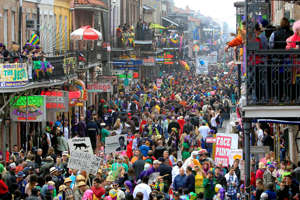 © Sean Gardner/Reuters Crowds flood Bourbon Street on Mardi Gras Day in New Orleans, Louisiana February 12, 2013. One of the most fascinating aspects of New Orleans' entertainment and cultural heritage have been the often separate worlds of drag and burlesque—thanks in part to both a large gay population and Bourbon Street's row of nightclubs. Recently, those two worlds have overlapped, and two parties will present drag queens alongside burlesque and circus performers this year. Bella Blue, named the 16th most popular entertainer in 2015 in a 21st Century Burlesque magazine poll, presents "Touché" on Jan. 28 at the Joy Theater on Canal Street, hosted by "RuPaul's Drag Race" finalist BenDeLaCreme and featuring an impressive list of performers. Hip French Quarter club One Eyed Jacks will serve host to "High Maintenance: A Celebration of Humanity" (Feb. 7), featuring drag queens, burlesque, and other erotic performers that's hosted by local comedians Beverly Chillz and Corey Mack.
5. Speaking of drag ...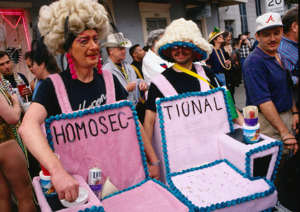 © Rick Gerharter/Lonely Planet Images/Getty Images Costumed revelers at Mardi Gras. The city's vibrant gay culture also can be found in two events that serve almost as bookends to the Carnival season. There are several gay Mardi Gras krewes, the largest being the Krewe of Satyricon; its "bal masque" was held Friday, Jan. 22, at the Sigur Civic Center with the theme, "Le Bal des Beaux Arts: A Night at the Museum." There guests will enjoy an almost endless procession of "tableaux"—think drag queens with enough ornamental costumes to weigh down a single float. It's hosted by cabaret performer Varla Jean Merman. Then, on Fat Tuesday (Feb. 9) at high noon, there is the Bourbon Street Awards, one of the largest drag-queen competitions in the world, around the 800 block of Bourbon. The emcees are "RuPaul's Drag Race" season six winner Bianca del Rio and fellow New Orleanian Blanche Debris.
6. Under the Big Top
© Cirque Copine via Facebook The all-female troupe of Cirque Copine. Another emerging performance scene is the city's vibrant world of circus arts, whether it's aerialists, clowns, knife-throwers, sword-swallowers, or escape artists. Several performances have been scheduled to coincide with the Carnival season, most notably the all-female troupe Cirque Copine's "In Wonderland" (Jan. 28 at One Eyed Jacks, French Quarter) and the four-day "Vaude D'Gras" (Feb. 5 through 8) at the historic Happyland Theater in Bywater. Also, Krewe du Lune, another kooky Carnival club, presents its eigth annual Space Ball with the theme "Cirque de So Lune," Feb. 5 at the Carver Theater in Treme. It will feature several circus performers, as well as a music lineup highlighted by Meschiya Lake & the Little Big Horns, and King James & the Special Men.
Photo: Cirque Copine via Facebook
7. Let 'em Eat Cake
© King Cake Festival via Facebook Kids participate in Zumba dance during King Cake Festival at Champions Square in New Orleans. New Orleans' iconic, sugar-sprinkled dessert treat is so popular that it is now celebrated with its own special gathering, the King Cake Festival, on Sunday, Jan. 31 in Champions Square. This third annual festival, which is free and open to the public, features food (lots of king cakes) from 20 bakeries around town. To counteract all that cake, there's also the Gladiator Games, complete with a one-mile fun run and other fitness activities, as well as music acts like local favorite Flow Tribe.
8. Greasing of the Poles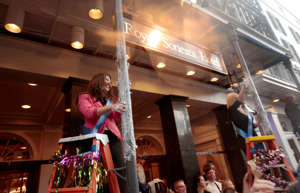 © Gerald Herbert/AP Photo Participants grease the poles of the Royal Sonesta Hotel in the French Quarter of New Orleans, in preparation for Mardi Gras Parade. As part of the kickoff to the final weekend of Carnival, the annual "Greasing of the Poles (Friday, Feb. 5) outside the Royal Sonesta Hotel invites contestants (including local celebrities) to continue a tradition that began by years ago of greasing the building's support poles to prevent over-served revelers from climbing them during the madness in the French Quarter. (This year's theme: "Let Them Eat King Cake.") The event is free and open to the public, and starts at 10 a.m.
9. Marching Groups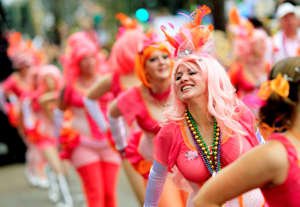 © Sean Gardner/Reuters Members of the Pussyfooters during Mardi Gras Parade in New Orleans. There are virtually too many marching groups to count in New Orleans these days, so vast are their numbers since a post-Hurricane Katrina explosion. Many of them are cheekily named, including the all-male 610 Stompers ("Ordinary Men with Extraordinary Moves"), the Rolling Elvis (men on bikes), and the Laissez Boys (men in rolling lounge chairs). Watch for them participating in several of the krewe parades.
10. The Society of Saint Anne Parade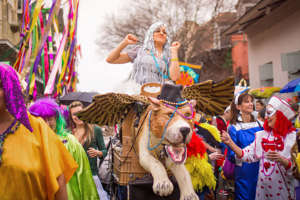 © Trung Le/Moment/Getty Images Mardi Gras revelers participating in the Society of Saint Anne parade from the Marigny to the French Quarter in New Orleans While the number of New Orleans marching groups has seemingly exploded over the past decade, one of the original of the modern-day groups is the Society of Saint Anne, a loose coalition of some of the city's most creative and artistic citizens. Each year, the group members—all in costume—meet at a friend's home deep in the Bywater neighborhood, then make their way up Royal Street toward the French Quarter. The parade is legendary for its extended stop at the intersection of Royal and Kerlerec streets, just outside the hip R Bar, as onlookers jam to percussive beats and often join the parade as it continues into the French Quarter, and then out to the banks of the Mississippi River for a solemn ceremony.
11. Searching for Mardi Gras Indians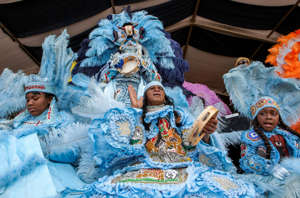 © Skip Bolen/WireImage/Getty Images Big Chief at Mardi Gras Indians Parade in New Orleans, Louisiana. Nothing is as distinct in Carnival culture as the elusive Mardi Gras Indians, whose "Big Chiefs" spend the entire year sewing and beading colorful, elaborate, and ornate suits they debut on Fat Tuesday (Feb. 9) in pockets of several neighborhoods, including Treme and Uptown. Trying to grasp the history and culture of the Mardi Gras Indians is a fascinating endeavor; even more fun is trying to spot the rival "gangs" as they "come out," meet, and do mock battle with one another. Check out the "Mardi Gras Under the Bridge" celebration along a several-block stretch of Claiborne Avenue. Mardi Gras Indians and brass bands often show up there, arriving from nearby Treme.
Next Story
People Using Toilet Seats, Detergent Bottles to Make It Look Like They're Traveling