51 Cozy Pennsylvania Dutch-Inspired Recipes
My mom's side of the family was German and Irish. Settling in Pennsylvania, they adopted some of the cooking and customs of the Pennsylvania Dutch. This is a dish Mom loved, and today it's my favorite garden salad. It tastes delicious alongside a plate of homegrown tomatoes. —Shirley Joan Helfenbein, Lapeer, Michigan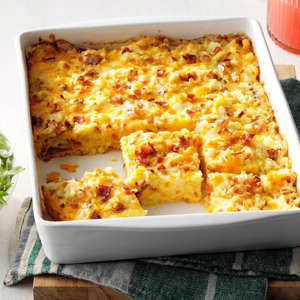 We've enjoyed a few hearty breakfast casseroles while visiting an Amish inn. When I asked for a recipe, one of the ladies told me the ingredients right off the top of her head. I modified it to create this quick and easy breakfast casserole my family loves. —Beth Notaro, Kokomo, Indiana
My relatives have been making these tasty doughnuts for years. The potatoes keep them moist, and the glaze provides just the right amount of sweetness. —Marlene Reichart, Leesport, Pennsylvania
My aunt made a mighty breakfast that revolved around 'The Big Pancake'. I always enjoyed watching as she poured the batter into her huge iron skillet, then created the perfect confection: a
Dutch baby pancake
. —Marion Kirst, Troy, Michigan
This is a common dish from where I was born and raised in Pennsylvania. It's a classic Dutch-style apple cobbler recipe—easy, quick and delicious. Who wouldn't love this golden brown delight? —Andrea Robson, York, Pennsylvania
You'll be surprised at the taste of this rich and cheesy easy potato soup. It really is the best potato soup recipe, ever. I came up with it after enjoying baked potato soup at one of our favorite restaurants. I added bacon, and we think that makes it even better. —Coleen Morrissey, Sweet Valley, Pennsylvania
Recipes of Pennsylvania Dutch heritage, like this one, are popular in our area. We like to serve these sweet-and-sour pork chops with dumplings or spaetzle, red cabbage coleslaw and applesauce, with Dutch apple pie for dessert. —Joyce E. Brotzman, McVeytown, Pennsylvania
My mother used to make this salad on holidays. With all the cabbage that is grown here, this coleslaw recipe is a real natural for us! —Deb Darr, Falls City, Oregon
This heartwarming one-dish meal is adapted from a Pennsylvania Dutch recipe. I start the pot roast cooking before I leave for church, add vegetables when I get home, and then just sit back and relax until it's done. —Donna Wilkinson, Monrovia, Maryland
Summer doesn't feel complete without at least one berry-picking trip and a batch of homemade blueberry jam. Eat atop fresh scones or biscuits for maximum enjoyment! —Marisa McClellan, Philadelphia, Pennsylvania
This Pennsylvania Dutch corn pie is full of old-fashioned goodness, with tender diced potatoes and a fresh, sweet corn flavor. Once you've tasted this delicious pie, you'll never want to serve corn any other way! —Kathy Spang, Manheim, Pennsylvania
This recipe produces zippy little pickled green beans, preserving my veggies for months to come ... if they last that long. I crank up the heat a bit with cayenne pepper. —Marisa McClellan, Philadelphia, Pennsylvania
You can spread this apple butter on thick and still enjoy a breakfast that's thin on calories. For a smoother texture, use tender varieties such as McIntosh or Cortland apples. —Diane Widmer, Blue Island, Illinois
Here's an easy, tasty dish to make for company that still allows you to spend plenty of time with your guests. I grew up in the heart of Pennsylvania Dutch Country, and food was always the center of attention at our family get-togethers. We think brunch is the best meal of the day to gather and enjoy. —Gloria Rohlfing, York, Pennsylvania
Growing up in a Pennsylvania Dutch area, I was surrounded by excellent cooks and wonderful foods. I enjoy experimenting with new recipes like this change-of-pace chili. —Kaye Whiteman, Charleston, West Virginia
I modified this recipe to suit my family's taste. It's a great side dish for a backyard barbecue with hamburgers and hot dogs. It can be made in advance and kept warm in a slow cooked for hours without losing any flavor. —Margaret Glassic, Easton, Pennsylvania
These easy-to-make, old-fashioned Amish sugar cookies simply melt in your mouth! I've passed this recipe around to many friends. After I gave it to my sister, she entered the cookies in a local fair and won best of show. —Sylvia Ford, Kennett, Missouri
When serving salad to a crowd, this easy buttermilk ranch dressing comes in handy. It make a full quart of creamy, delicious dressing to toss with your favorite greens and veggies. —Patricia Mele, Lower Burrell, Pennsylvania
My grandma (I called her Baba) made these in her coal oven. How she regulated the temperature is beyond me! She always made extra rolls for the neighbors to bake in their own ovens. My mom and aunts would deliver the formed rolls at lunchtime. —Charlotte Hendershot, Hudson, Pennsylvania
Apple slab pie is a terrific contribution to a covered-dish supper, picnic or potluck. It's baked in a large 15x10 baking pan so it's easy to make and tote, too. But be prepared—people always ask for a copy of the recipe! —Dolores Skrout, Summerhill, Pennsylvania
These are the best buttered noodles ever! They are easy to make and kid-friendly, and they pair nicely with lots of main dishes. —Angela Lively, Conroe, Texas
I love to cut up whatever fresh vegetables I have on hand and toss them with this delicious dressing and fresh dill. This salad shows up on our table regularly during the summer. —Bethany Martin, Lewisburg, Pennsylvania
You can easily prepare this the night before for a luncheon, or in the morning for dinner. I serve it year-round for large groups, like my card and garden clubs, and make it for picnics and other occasions. Nearly every time I do, someone requests the recipe! —Ethel Pressel, New Oxford, Pennsylvania
This rich, moist bread with an onion-poppy seed topping is a wonderful break from your everyday bread routine. You can serve it with any meat, and it's a nice accompaniment to soup or salad. I've made it many times and have often been asked to share the recipe. —Mitzi Sentiff, Annapolis, Maryland
I adapted this recipe from a Pennsylvania Dutch cookbook, and it's indicative of the fine German cooking found in this area. If you're looking for an alternative to mashed potatoes, try this dish. —Elsa Kerschner, Kunkletown, Pennsylvania
I can still remember my grandma serving this delicious cake on the big wooden table in her farm kitchen. Every time I bake this unusual cake, it takes me back to those special days at Grandma's. —Diane Ganssle, Bethlehem, Pennsylvania
These slightly crunchy pickled onions are not only a great gift for Christmas, but also a terrific contribution to a backyard barbecue as a relish for burgers and hot dogs. —Laura Winemiller, Delta, Pennsylvania
When I found this recipe in an Amish cookbook, I had to try it. It's traditional in regions with Amish populations—Pennsylvania, Ohio and the Upper Midwest. Now it's a staple for our family and the folks at our church fellowship, too. —Jori Schellenberger, Everett, Washington
My baked apple recipe is very old-fashioned yet tried and true. It's definitely a comfort food. —Rachel Hamilton, Greenville, Pennsylvania
My grandmother's Pennsylvania Dutch-style recipe turns plain old green beans into a tangy cross between three-bean and German potato salads. —Sharon Tipton, Casselberry, Florida
Versatile and delicious, this conserve reminds me of a warm cozy kitchen; you'll love every bite. I warm the conserve and pour it over vanilla ice cream as a dessert, and it's great as a topping over French toast, biscuits or even pork roast. Be sure to make more than one batch so you can give it as gifts during the holidays.—Paula Marchesi, Lenhartsville, Pennsylvania
I make sticky buns and cinnamon rolls quite often because my husband loves them. One day I had some fresh pumpkin on hand and decided to try pumpkin cinnamon buns. We loved the results! —Glenda Joseph, Chambersburg, Pennsylvania
Home-canned pickled mushrooms are a handy addition to your pantry. They're ideal for cocktails, appetizers, salads and relish trays.—Jill Hihn, Mother Earth Organic Mushrooms, West Grove, Pennsylvania
A colleague brought this in one day for someone's birthday. I grow zucchini in my garden so I had a lot of opportunities to experiment with the recipe. My mother-in-law loves it, and not just because it's pretty good for you! —Sally Newton, Smethport, Pennsylvania
I've relied on this recipe for years, and my cabbage rolls never fail to impress. As the host of a number of holiday parties, my guests have come to expect this main entree. —Nancy Foust, Stoneboro, Missouri
Vanilla cake with cream cheese filling and strawberry rhubarb sauce make a grand finale for a Mother's Day brunch. I made this to honor our moms and grandmothers. —Danielle Ulam, Hookstown, Pennsylvania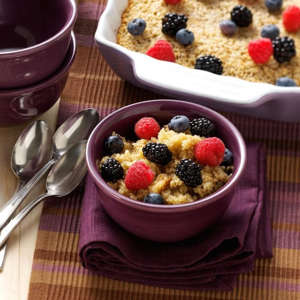 The first time I had this treat was at a bed-and-breakfast in Lancaster, Pennsylvania. To me, it tasted just like a big warm-from-the-oven oatmeal cookie! —Colleen Butler, Inwood, West Virginia
When I found these pork chops and apples recipe online years ago, it quickly became a favorite. The ingredients are easy to keep on hand, and the one-pan cleanup is a bonus. —Christina Price, Pittsburgh, Pennsylvania
Even people who don't like broccoli beg me to make this comforting broccoli cheese casserole recipe. It's similar to a classic green bean casserole, but the melted cheese just puts it over the top. —Elaine Hubbard, Pocono Lake, Pennsylvania
A cousin in North Carolina gave me the recipe for these delicious honey-glazed rolls. Using my bread machine to make the dough saves me about 2 hours compared to the traditional method. The rich buttery taste of these rolls is so popular with family and friends that I usually make two batches so I have enough! —Sara Wing, Philadelphia, Pennsylvania
My sister-in-law passed this kid-friendly recipe to me. Since she prefers her foods much spicier that we do, I cut back on the heat by reducing the amount of hot pepper sauce. Feel free to increase it or add your favorite herbs if you want more kick.— Audrey Wall, Industry, Pennsylvania
These apple streusel muffins remind us of coffee cake, and my husband and kids love them as a quick breakfast or snack on the run. The drizzle of glaze makes them pretty enough for company. —Dulcy Grace, Roaring Spring, Pennsylvania
Spicy kielbasa sausage and plentiful cabbage and potatoes give this dish a pleasing Old World flair. My husband never liked cabbage before I made this, but now he does! —Romaine Wetzel, Ronks, Pennsylvania
Everyone loves slices of this fork-tender roast beef with its savory gravy. The well-seasoned roast is Mom's specialty. People always ask about the secret ingredients. Now you have the delicious recipe for our favorite meat dish! —Linda Gaido, New Brighton, Pennsylvania
Creamed corn and butter make my chicken corn soup homey and rich. This recipe makes a big batch, but the soup freezes well for future meals—one reason why soups are my favorite thing to make. —Beverly Hoffman, Sandy Lake, Pennsylvania
My mother always made these tasty muffins whenever our family got together at her house. Now they're a family favorite at my house, and my in-laws love them, too! —Carolyn Riley, Carlisle, Pennsylvania
At our house, it wouldn't be Christmas without these Pennsylvania Dutch cookies, which are known locally as
kiffels.
—Sharon Allen, Allentown, Pennsylvania
My grandmother hand-wrote a cookbook. She included this amazing pie crust, and I added this delicious chicken potpie soup for it. —Karen LeMay, Seabrook, Texas
I found this recipe for a chewy raisin cookie in one of the many Amish cookbooks I own. I haven't seen it duplicated anywhere else. —Marcia Wagner, Berrien Springs, Michigan
This Amish macaroni salad is a crowd favorite. It's supposed to be sweet, but you can lessen the sugar to suit your taste. Garnish with sliced hard-boiled eggs and paprika, if desired. —Mishelle Johnson, Wyoming, Michigan
Mmm! These ooey-gooey goodies will have everyone licking maple syrup from their fingers—and reaching for seconds. The yeast dough chills overnight. —Nancy Foust, Stoneboro, Pennsylvania
The post 51 Cozy Pennsylvania Dutch-Inspired Recipes appeared first on Taste of Home.