Go Penguin Spotting: 5 Cold-Weather Cruises To Take This Year

Condé Nast Traveler
2/6/2015
THE ARCTIC CIRCLE
Trade Aruba for the Arctic Circle and you'll have a chance to spot narwhals and polar bears, witness the night sky painted green with the Aurora Borealis, or bask in the midnight sun. While other cruises to the region (detailed below) generally make stops in one or only a few countries, Arctic Circle cruises tend to visit a greater number and variety during the voyage (and really, how many times will you find yourself in the region?). Ports of call can include destinations within any of the eight countries that are located in the Arctic Circle, including Alaska, the Canadian Arctic, Greenland, Iceland, Norway, Sweden, Finland, and far eastern Russia. Quark Expeditions offers the rare chance to visit the North Pole on a 14 or 15-day expedition, which includes visits to Finland and Russia. If the bragging rights of standing at 90 degrees north aren't postcard-worthy enough, the cruise includes helicopter and hot air balloon excursions as an added bonus.
Peak season: June to September
ALASKA
Cruises to Alaska offer many of the same sights as other cold-weather cruises—icebergs, penguins, the Aurora Borealis—but with slightly more forgiving temperatures (highs can reach the 60s on a good day). Popular ports of call include Skagway, Ketchikan, and Valdez. You'll also likely find yourself disembarking to explore Glacier Bay National Park just west of Juneau and passing by the South Sawyer Glacier and fjords in Tracy Arm. Disney Cruises offers a weeklong trip from Vancouver with activities for the whole family, including gold-mining excursions and dog sledding. Celebrity Cruises has a variety of Alaska-destination options, which include 24 ports of call and more than 40 excursions to choose from. The 7-night Southern Glacier Cruise will have you hopping a seaplane in Ketchikan before heading out on a tour of Misty Fjords National Monument and you just might witness a massive block of Hubbard Glacier breaking off into the ocean.
Peak season: May to September
ANTARCTICA
A cruise to Antarctica takes you to the end of the earth (literally), and past some of its most pristine landscapes along the way. Trips typically start in Buenos Aires, where you'll catch a flight to Ushuaia; ports of call can include distant locales like the Falkland and South Georgia Islands (pictured). It's an excellent trip for nature-lovers: Passing through the Drake Passage, you may spot albatross above or whales in the waters below; once you're in Antarctica, crowds of the continent's coastal inhabitants (such as penguins and leopard seals) might greet you. Despite the remoteness of the route, there are a good number of cruise lines traveling to Antarctica. National Geographic Expeditions has a 14-day tour that includes stops in Antarctica's Paradise Bay, Petermann Island, Neko Harbor, and Port Lockroy. Abercrombia & Kent offer several themed cruises, including Climate Change Challenge led by renowned researcher Dr. James McClintock, which has cruisers delivering equipment to aid in climate change research at the Palmer Research Station.
Peak season: December to February
GREENLAND AND ICELAND
Snow and ice-filled Greenland has plenty to offer as a cruise destination—not least of which being that it's often coupled with a visit to Iceland, either during the trip or as its starting point. Despite cruising during the summer months, your trip through these polar waters and Arctic locales isn't likely to have temperatures that exceed 40-50 degrees. Ports of call are scattered around Greenland and include excursions to Greenland National Park , the world's largest and least visited national park. Hurtigruten offers a 12-day photography-focused cruise with visits to both countries and camera workshops in between stops led by cinematographer Darren Perkell.
Peak season: June to October
SCANDANAVIA
A cruise through Scandinavia is truly a tour de fjord. As you sail through archipelagos and past Stockholm's beautiful waterfront, you'll be treated to a more verdant cruise (particular when compared to snowy destinations, such as Antarctica). Helsinki is one common point of departure, but ports of call will vary based on cruise line, with most itineraries making multiple stops between Sweden, Norway, and Finland. Some routes even venture into the Arctic Circle—all the better for possibly seeing the fjords and the midnight sun. Viking and Silja are two cruise lines that tour Scandinavian waterways, but there is no shortage of options with a number of other providers.
Peak season: May to August
See more about cold weather cruises on CNTraveler.com
More from Condé Nast Traveler
15 Places You Won't Believe Exist
More from Condé Nast Traveler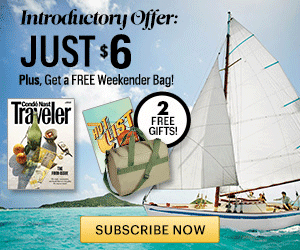 Condé Nast Traveler