The Best Picnic Salad from Every State

Taste of Home
8/25/2022
Even if you're not from the deep South, you most certainly find comfort in their comfort foods, like this classic Southern-style potato salad. The recipe is simple, tossing cooked potatoes, hard-boiled eggs, green onions and sweet pickles with an easy three-ingredient dressing that comes together in seconds.
The waters of Alaska are well known for producing some of the best seafood you'll ever taste, with salmon being one of the most famous fishes found in The Last Frontier. You can use any smoked salmon in this recipe, but for a true taste of Alaska,
order salmon straight from the source
.
The Grand Canyon State is well known for its fiery chile peppers. This potato salad features diced jalapenos to bring the heat and fire-charred poblanos for smoky spiciness, but it balances the burn with sweet corn, tart limes and a cool, creamy buttermilk dressing.
Turn leftover chicken into picnic perfection with this easy five-ingredient recipe from the Natural State. To add a touch of crunch, add a handful of chopped toasted pecans, the official state nut of Arkansas.
This refreshing salad is an exemplary example of California cuisine: healthy, flavorful and fresh. Known the world over for its spectacular produce, this picnic salad features three of the Golden State's most famous agricultural exports—avocados, oranges and nuts—and might make you long for a
road trip along the West Coast
.
Many of the lambs raised in America come from the Centennial State, and this tangy, creamy and tart tossed salad is a perfect pairing for it. Serve the salad alongside this
Southwestern grilled lamb
, which features another hallmark of Colorado cuisine: chile peppers.
Yes, dandelions are edible, and if you've never tasted their greens before, you're in for a treat! Dandelion greens are bitter and peppery (much like arugula), and in this picnic salad, their bite is complemented with pieces of citrus fruit and
fresh lemon juice
.
Every summer, millions of people from the mid-Atlantic flock to the beaches of the First State, and when it comes to cookouts, crab is king. This picnic salad tosses crabmeat with shrimp in citrus juice for a fresh salad experience.
Any picnic salad that's going to represent for the Sunshine State must feature sweet Florida oranges. In this recipe, slices of fresh orange are tossed with red onion, blue cheese, slivered almonds and fresh spinach leaves, then coated in a fresh orange juice vinaigrette for an extra layer of Florida orange flavor.
Georgia's official nickname is the Peach State, so of course peaches would need to make an appearance in this picnic salad. Grilling peaches caramelizes their natural sugars, giving them an intense depth of flavor that make this couscous salad unforgettable.
Along with Spam, coconut and pineapples, macaroni salad is undoubtably one of
Hawaii's most famous foods
. It's great served alongside other Hawaiian delicacies like
Huli Huli chicken
and
char siu pork
, but it's a great picnic salad for any party or potluck no matter what else is on the menu.
Officially Idaho's nickname is the Gem State, but when most people think of Idaho, they don't think of gems—they think potatoes! Idaho farms produce more potatoes than any other state in the nation, harvesting over 13 billion pounds of potatoes every year. They also grow a lot of apples, so this apple potato salad is quite fitting.
Did you know that the Prairie State is a top grower of popcorn? It's an important part of Illinois' agricultural production, and as this classic
Midwestern potluck salad
proves, it can be so much more than a snack food.
This pleasing pasta salad by way of the Hoosier State is like eating a BLT in a bowl. Filled with crispy bacon, chopped tomato, celery and green onion, the sensational salad is coated with a tangy mayonnaise and vinegar dressing. It's a real crowd-pleaser!
The Hawkeye State is famous for its sprawling golden corn fields, and this fresh corn salad makes good use of Iowa's most famous crop. In this Midwestern salad, fresh shucked sweet corn is tossed with chopped onions, peppers and tomatoes, then tossed in a slightly sweet cider vinegar dressing with bright fresh parsley.
The Sunflower State is famous for its stick-to-your-ribs barbecue, and a cool, refreshing cucumber salad is a perfect side to serve with it. Pair this Miracle Whip-dressed salad with
Kansas City-style ribs
, or grilled chicken slathered with
sweet and sticky K.C. barbecue sauce
.
The Bluegrass State named the blackberry its official fruit in 2004, and this simple picnic salad is abundant with them, tossing two whole cups of sweet fresh blackberries with tangy cherry tomatoes, salty feta cheese, sharp scallions, crunchy almonds and baby spinach in
balsamic vinaigrette
.
If a potato salad is from Cajun country, you know it's got to be spicy! This potato salad recipe from Sibley, Louisiana livens up its dressing of mayonnaise, relish and mustard with a bold kick of
Cajun seasoning
, which you should add to taste depending on your tolerance for heat. Start with a light sprinkle if you're sensitive to spice; add more than the recipe calls for if you like things hot and spicy!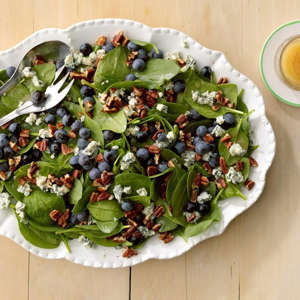 Outside of lobster, wild blueberries are arguably the most famous foodie export from the Pine Tree State. This recipe calls for fresh blueberries, but if you can't
pick blueberries
, then use frozen wild Maine blueberries instead, which are readily available in most supermarkets.
One can't help but think of crab as the Old Line State's most obvious
official state food
… and it is! For a true taste of Maryland, use fresh lump crabmeat picked from blue crabs. (Chesapeake blue crabs if you can!) If that's not possible, canned, frozen or even imitation crab will work just as well.
Massachusetts produces about a third of our cranberries, which add a vibrant pop of tartness to this fresh broccoli slaw. Transport yourself to the Bay State by serving this salad at an
old-fashioned clam bake
. Not near the ocean? Make this
sheet pan clambake
in your oven instead!
The Great Lakes State doesn't have an official state food, but if you ask any native Michigander what should be in the running, more than a few will mention utterly irresistible fresh
Michigan cherries
. This recipe doubles down on cherry flavor by using a combination of dried cherries and cherry preserves, but if you've got gorgeous fresh cherries on hand, feel free to use them!
Wild rice is an important crop in the North Star State. It adds a spectacular, slightly nutty flavor to this salad, which is inspired by a vintage German slaw that's popular at church suppers.
Think of this salad like a savory trifle: layers of crumbled cornbread alternated with chopped veggies, crumbled bacon and pinto beans, all drizzled with a simple two-ingredient dressing. This recipe calls for
boxed cornbread mix
, but to go the extra mile, use
homemade cornbread
instead.
The Show-Me State is home to not one but
two
cities synonymous with barbecue: St. Louis and Kansas City. You don't need to know how to smoke meat the Missouri way to make this barbecue pork Cobb salad, though—all you need is a slow cooker to make a pork loin that's fall-apart tender and a
spectacular barbecue sauce
to dress it.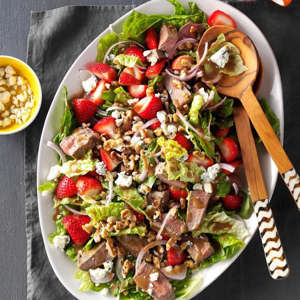 Montana is one of America's biggest producers of beef, and the complementary flavors in this salad—like sweet strawberries, sharp red onion and blue cheese—do a fantastic job of making red meat shine.
Because it's also known as the Cornhusker State, corn would be a logical choice as Nebraska's state vegetable. While Nebraskans haven't made it official, they should! And while they're at it, maybe they should name this tasty mix of barley and corn their official state salad, too.
When you think of Nevada, you think of Las Vegas, and when you think of Las Vegas, you think
shrimp cocktail
! Rumor has it the shrimp cocktail was introduced to Vegas in the 1950s by a casino owner that was homesick for the seafood of his native California. Since California is also famous for its avocados, this salad would be a perfect fit for a casino buffet.
The official fruit of the Granite State is the pumpkin, an item many people don't even realize is a fruit! Fresh pumpkins are available all year round, but if you have trouble finding them outside of autumn, make this salad using
fresh cubed butternut
or frozen winter squash instead.
New Jersey is home to some of the greatest Italian-American delis in the nation, and you'll find a version of this picnic pasta salad—full of cured meats, cheese, olives, tomatoes and more—at just about all of them.
This traditional
Southwestern salad
is full of ingredients like green chiles and pinto beans. Serve alongside other
recipes from New Mexico
, like grilled
jalapeno-lime chicken
.
Waldorf salad gets its name from the place where it was invented: the world-famous Waldorf Astoria Hotel in New York City. It was created by the hotel's maître d' for a charity ball in 1896; originally made with apples, celery and mayonnaise, our version jazzes up this classic with raisins, walnuts and tart lemon juice.
The Tar Heel State is the number one producer in the United States, so if you want to bring an authentic
North Carolina recipe
to your next potluck, this bacon-loaded sweet potato salad definitely fits the bill. Serve it alongside this slow-cooked
Carolina-style barbecue
.
What do you do when you're in the mood for macaroni salad, but craving slaw, too? You make macaroni coleslaw, of course! This recipe from the Peace Garden State brings the best of both worlds to any picnic, potluck or summer shindig.
Tomatoes go gangbusters in Ohio—so much so that they're the Buckeye State's official fruit. (Yes,
tomatoes are a fruit
!) This ultra-flavorful recipe is a one-bowl-wonder: simply add all your ingredients, give it a stir and refrigerate overnight to let the magic happen.
Black-eyed peas are one of the official foods of the Sooner State, and this vibrant picnic salad does a spectacular job of letting them shine. If you somehow end up with leftovers, get excited: this is a salad that gets better and better as it sits in the fridge.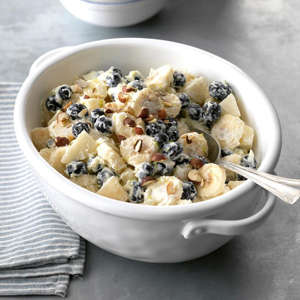 Most of America's pears come from Oregon, so it's the chosen state fruit. The Beaver State is also well known for fresh berries, and this salad has them both, tossing them in a creamy lime dressing.
The
Pennsylvania Dutch
are legendary for their potlucks, and this easy-to-make cucumber salad is absolutely perfect for sharing. To bring even more Pennsylvania to your picnic, check out these recipes for
Pennsylvania Dutch coleslaw
,
tangy bacon green beans
and
chocolate shoofly pie
.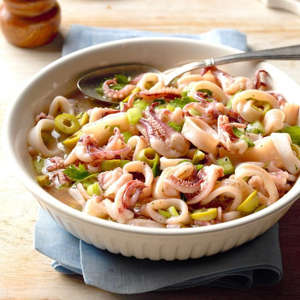 Rhode Island may be America's smallest state, but it manages to have over 400 miles of coastline—making it absolute heaven for seafood lovers! This fresh calamari salad also features
briny anchovies
, and is a great representation of the Ocean State's large Italian-American community.
South Carolina's low country is famous for its wild rice which, technically, isn't actually rice! In fact, it's not even related to rice; it's harvested from a tall grass that grows along the banks of waterways, and unlike nearly all the other grains we eat,
wild rice
is native to North America.
The eastern part of South Dakota has become known for producing some of the best potatoes in all of America. Waxy red potatoes are the star of this picnic salad; less starchy than Russets,
red potatoes
are firmer and hold their shape when cooked, creating a hearty potato salad that eats like a full-blown meal. Bring it to a picnic along with
South Dakota Frito Treats
.
Summers are hot and humid in the Volunteer State; this creamy coleslaw serves a crowd without requiring you to turn on the stove or oven. Big flavors like blue cheese, cilantro and fresh lime juice make this recipe a lot more memorable than your average slaw, while being just as cool and refreshing. It's perfect for a picnic beneath the sweltering Southern sun.
The Lone Star State is legendary for its Tex-Mex cuisine. This potato salad mixes red potatoes with sweet corn, avocado, salsa and pickled jalapeno slices for a potluck dish that'll disappear fast.
This tantalizing salad is from a reader in Utah, a state where they know a thing or two about potlucks. With its delicious mix of crunchy peanuts, tangy dried cranberries and mandarin oranges, this colorful Asian chicken salad is a definite crowd-pleaser.
Water chestnuts
and a teriyaki dressing give this main dish a touch of Asian-inspired flavor.
If there's one food that absolutely
screams
Vermont, it's maple syrup. The Green Mountain State produces over 2 million gallons every year—more than 50% of the country's
maple syrup
! This picnic salad makes the best of it, whisking it into a tangy apple cider vinaigrette that gets tossed with apples, cranberries, pecans, blue cheese and, of course, sweet potatoes.
The Old Dominion State is happy to be known for its cured country ham—the perfect addition to a breakfast plate full of eggs, biscuits and gravy and, yes, salad. With salty, smoky ham, celery, green onion and toasted nuts in a creamy mayonnaise dressing, this salad is delicious on sandwiches, crackers or lettuce.
This brings multiple ingredients native to the
Pacific Northwest
—fresh salmon, blueberries and hazelnuts—into one irresistible recipe. If you don't have a picnic or potluck to make this salad for, the salmon and sour cream dressing are scrumptious in a sandwich.
West Virginia is famous for its natural beauty; for your next
picnic in the woods
, bring this salad to eat while you enjoy the view. Potato and egg salads are picnic faves, and both are magnificent when they're mixed with lots of fresh dill. This recipe combines the best of both worlds to make the ultimate picnic salad for your next hike.
Any recipe that's going to represent the great state of
Wisconsin
needs to be loaded with cheese, and this picnic salad does just that! Sure, there are vegetables, like peas, lettuce and parsley, but the real star of the show is a whole cup of shredded cheese—preferably
Wisconsin cheese
.
Wyoming is cowboy country—a great expanse of the Wild West well known for raising cattle. Any picnic salad from the Cowboy State needs to feature beef; in this one, thinly sliced sirloin is stir-fried and tossed with Asian-inspired flavors, like garlic, ginger and soy sauce.
The post The Best Picnic Salad from Every State appeared first on Taste of Home.
MORE FROM TASTE OF HOME

Taste of Home