'RHONY' Star Bethenny Frankel's On-Again/Off-Again Boyfriend Found Dead at Trump Tower

The Blast
8/10/2018
(Video provided by Us)
"Real Housewives of New York" star Bethenny Frankel's on-again/off-again boyfriend was found dead this morning at Trump Tower in New York City.
The Office of the Chief Medical Examiner in New York tells The Blast, "The medical examiner's office is investigating the death of a man believed to be Dennis Shields, found at the Trump Tower. The investigation is ongoing, and we will release cause and manner of death when completed."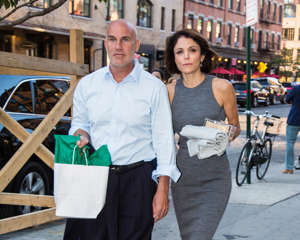 © 2015 Alessio Botticelli Dennis Shields and Bethenny Frankel are seen leaving SoHo House on June 14, 2016 in New York, New York. (Photo by Alessio Botticelli/GC Images) NYPD tells The Blast that Shields was pronounced dead on the scene. Page Six (which was first to report on Shields' passing) is reporting Shields died of a suspected overdose.
Bethenny and Dennis have been dating for several years, but it's unclear if they are together at this time.
The couple was seen together in Miami on vacation back in February.
The Blast reached out to Frankel for comment — so far, no word back. 
Bethenny's "RHONY" frenemy, Carole Radziwill, spoke on Shields' sudden passing: "I just heard the sad news about Dennis. He was a good man. My condolences to all his family and friends. So tragic."
Back in May, Frankel opened up about their relationship to Steve Harvey, saying, "I've been with someone on and off for years. It's like a partnership where if we're not being teammates and it's not working and one man is down, then the other man is down. We're trying to really kind of be good partners and be good teammates and I think relationships oddly are — and this sounds cold — but a little bit like business. If both people aren't happy about it but slightly uncomfortable and giving up something or giving in [to] something, it doesn't work. So both partners have to say, 'All right, I'm in it for this.'"