Baby News! Mindy Kaling Pregnant With First Child

Gossip Cop
7/17/2017
(Video provided by E! Online)
Mindy Kaling is reportedly pregnant. There's no information about who the father of the baby is or how far along the comedic actress is. Gossip Cop has reached out to her reps for confirmation.
It seems there was speculation over the weekend that Kaling is pregnant because some felt she appeared a little bit more full-figured on Saturday at the D23 Expo in Anaheim, California. The comedic actress was there for a presentation of her upcoming film A Wrinkle In Time with her co-stars Reese Witherspoon and Oprah Winfrey. So far, the 38-year-old Kaling has not made any mention of being pregnant on social media.
According to E!, the actress's pregnancy was "an unexpected surprise." The outlet reports that it will also not affect any of her projects. Not long ago she finished production on Ocean's Eight. And her series, "The Mindy Project," just began production on its final season last week. Interestingly, the actress's character was previously pregnant on the show.
Kaling has not been publicly linked romantically to anyone in a few years. In the past, Kaling dated B.J. Novak, her co-star on "The Office." She then went out with writer Benjamin Nugent. Kaling and Novak have remained close, and she's even noted how deeply she cares for him since their breakup.
Having a child has been on Kaling's mind for some time. She noted that she didn't want to wait too long to have kids. In her book, Why Not Me?, she wrote, "What if my kids are really young when I die because I waited too long to have them?" And in 2015, she told Good Housekeeping, "When I was younger, I wanted so badly to be married and have kids in a rush."
That same year, in an interview with Yahoo!, Kaling was quoted as saying, "I've decided that unlike everything else in my life, I'm going to be fast and loose about kids. I'm going to not actively plan, but if it happens, it would happen." Kaling added, "I'm not cavalier about who I would have a kid with. But the thing I ask every parent that I really admire, the one comment they all have is that they wish they had kids earlier." Gossip Cop will update when we get a confirmation about Kaling's pregnancy.
Related Gallery: Celeb babies of 2017 (Via Photo Services)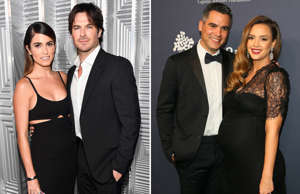 Celeb babies of 2017