Dog the Bounty Hunter Investigated for Assault After Airport Confrontation with Hecklers Caught on Tape

The Blast
12/6/2018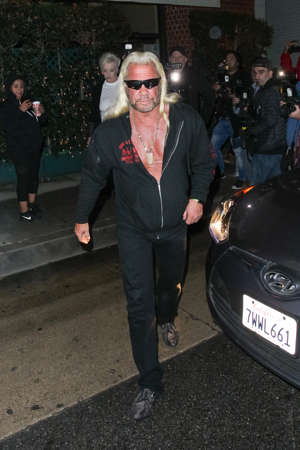 © 2018 Bauer-Griffin Dog the Bounty Hunter is seen on November 28, 2018 in Los Angeles, California. (Photo by BG022/Bauer-Griffin/GC Images) Dog the Bounty Hunter has been accused of assaulting a man just as the star landed back home in Colorado with his ailing wife Beth, but the reality star says the couple were the real victims and were aggressively antagonized as soon as they touched down.
According to video taken just after the incident, Dog can be seen engaged in an aggressive confrontation with a man who accused the reality star of shoving his son. The man says, "You put your hands on my son," and also hurls the N-word at Dog, while threatening to "Beat your ass." Another man, presumably the man's son, is also screaming obscenities at Dog.
In the video, Dog and Beth can be seen getting into an elevator with an airport handler, and appear to be trying to leave the situation before it escalates.
Dog eventually does yell back, "Let's go outside, brah." He also denies the allegations he put his hands on anyone. Sources close to Dog tell us when he said, "Let's go outside," he was referring to speaking with security.
We're told the incident started when Dog and Beth landed and the guy allegedly went up to Dog and said, "Hey Dog, I got a bounty on my head what the f--- you gonna do about it."
Sources close to Dog tell us he tried telling the aggressive hecklers that Beth was sick, and in a wheelchair, and he did not want to mess around, but the men were allegedly aggressive and would not let up.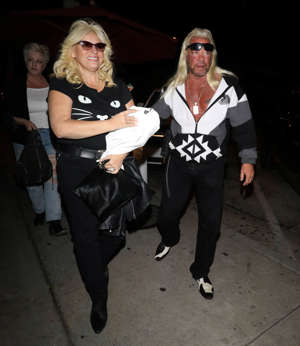 © 2018 Star Max Duane Lee Dog Chapman and Beth Chapman are seen on November 26, 2018 in Los Angeles, CA. (Photo by Hollywood To You/Star Max/GC Images) Things escalated, and we're told the man threatened Beth by saying, "Tell that b-tch to get out of the chair, I'm gonna cut her in half." That's when we're told things escalated to what is shown on video.
Dog and Beth are both adamant that he did not touch anyone, and we are told Dog may even be considering filing harassment charges against the people involved.
An official for the Denver PD tells The Blast an allegation of simple assault was made against Chapman, and police are looking into the matter.
We're told no arrests have been made and police are looking into the details to see if an assault did occur.
The Chapmans believe the allegations to police are trumped up, and claim they are the real victims. We're also told investigators already pulled airport footage, and our sources claim the video defends Dog's story.
As we reported, Dog and Beth returned home to Colorado to speak with Beth's doctors and determine the next course of action for treating her cancer, which has spread throughout her body.
Related video: Dog the Bounty Hunter's Wife Beth Back in Colorado Against Doctor's Advice (via Us Weekly)