Here's How To Become Kris Jenner's Assistant, According To Kris Jenner

HuffPost
5/16/2018
On an episode of "Keeping Up With the Kardashians" that aired in January this year, a pregnant Kylie Jenner called her mom, Kris Jenner, to say she thought an employee was trying to take pictures of her in her own home.
(Kylie never publicly confirmed that she was expecting before she announced the birth of her daughter, Stormi, on Feb. 1. At the time of the episode's recording, pictures of a pregnant Kylie would have been very valuable.)
Flexing her momager muscles, Kris said she thought about getting the employee arrested. The message was clear: If you don't prove trustworthy ― and you go against the family ― Kris and the Kardashians will come for you.
"Unfortunately, there are some bad people out there who have not good intentions. And, you know, I obviously can't control that," Kris said in a phone conversation with HuffPost last week. "But to the best of my ability, we try to have people on our team who have our back, who we feel that we can really trust."
The matriarch of the most famous residents of Calabasas, California, is on the market for such an employee: Kris recently went viral after announcing that she partnered with Bumble Bizz, a networking offshoot of the dating app, to find her next personal assistant.
"It's about being discreet and being private and learning. That's definitely a skill set," Kris said of what it takes to join the Kardashian payroll. "And being able to be mature and understand what the family is all about. If somebody has something that's happening in your life at the moment and it is a private thing, then somebody [would need] to have a lot of respect for that."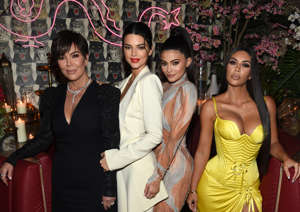 © 2018 Getty Images NEW YORK, NY - MAY 08: (L-R) Talent Manager, Jenner Communications, Kris Jenner, Model Kendall Jenner, Founder, Kylie Cosmetics Kylie Jenner, Founder, The Business of Fashion Imran Amed and Founder and CEO, KKW Kim Kardashian attends an intimate dinner hosted by The Business of Fashion to celebrate its latest special print edition 'The Age of Influence' at Peachy's/Chinese Tuxedo on May 8, 2018 in New York City. (Photo by Dimitrios Kambouris/Getty Images for The Business of Fashion) As a self-described "mama bear," Kris has no tolerance for "when something needs to be protected and somebody else doesn't understand the importance of that."
"We obviously will go to and spare [raises voice] no expense to hold somebody accountable if that happens on our team," she said. 
"I don't care how much money somebody might have ― if they have nothing. Some people think, 'Oh, I don't have any money, and they're not going to sue me.' Well, we'll take payments," she said with a laugh.