La La Anthony could get primary custody of son Kiyan

New York Daily News
4/21/2017
La La would likely have Kiyan live with her in New York City full-time while the NBA great would be allowed visitation, a source told TMZ.
The pair has yet to officially file for divorce, but publicly announced their separation on Monday and later were spotted out without their wedding rings. The divorce documents are only a matter of time, according to the gossip site.
It is unclear what led to the couple's split, but sources saidthey have faced rough times for years.
© The Associated Press FILE - In this April 30, 2016, file photo, Carmelo Anthony, left, and La La Anthony arrive at the White House Correspondents' Association Dinner at the Washington Hilton Hotel in Washington. Anthony's concerns go beyond his future with the New York Knicks. The All-Star forward and his wife, actress La La Anthony, are separated, according to a report from TMZ . The website says she moved out of the family's home last week and has her own place in New York. (Photo by Evan Agostini/Invision/AP, File)
"They have been fighting for about a year," a source close to the couple told the Daily News. "The marriage has always been a rocky one, so this is no surprise."
Despite the drama of the relationship, La La has said that Carmelo is a great dad and the two are focused on making sure their son Kiyan is not pulled back and forth.
The New York Knick and former MTV VJ have been married for seven years and reportedly signed a prenup before tying the knot.
© Provided by New York Daily News Carmelo and Lala Thanks to Melo's giant NBA salary and numerous partnerships and endorsements, the prenup leaves millions on the table.
It is also alleged that Carmelo, 32, cheated on La La and got another woman pregnant. That woman is reportedly requesting money from the basketballer for medical expenses and to raise the child, according to TMZ.
A Chicago man, who claims to be friends with the woman identified as Melo's mistress, told the Daily News that Mia Angel Burks, 25, is pregnant after meeting Carmelo at Room Seven, a club in Chicago.
Burks could not be immediately reached for comment.
For more celebrity breakup news, keep reading: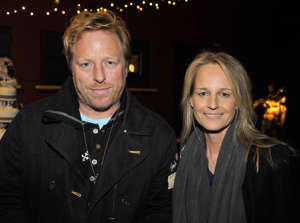 Celebrity break-ups of 2017