Tragedy in Missouri, leaked Trump tape and more from the Friday #SmartList
The week may be ending, but the news never stops. The Friday #SmartList will point you to the stories you should know.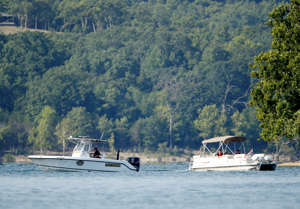 © Charlie Riedel Emergency workers patrol an area Friday, July 20, 2018, near where a duck boat capsized the night before resulting in at least 13 deaths on Table Rock Lake in Branson, Mo. Workers were still searching for four people on the boat that were unaccounted for. 1) At least 17 killed when duck boat capsizes in Missouri (NBC News)
Tragedy struck near Branson, Missouri, Thursday evening when a duck boat sank, killing at least 17 people. The Ride the Ducks tour boat capsized on Table Rock Lake while besieged by a severe thunderstorm, which generated winds of up to 60 mph. Further details about the sinking are still forthcoming.
© Jeenah Moon/Reuters The Justice Department is investigating the involvement of President Trump's personal lawyer, Michael D. Cohen, in paying women to tamp down embarrassing news stories about Mr. Trump during the 2016 presidential campaign. 2) Michael Cohen secretly taped Trump discussing payment to former Playboy model (New York Times)
The recording, seized during an FBI raid on the office of former Trump lawyer Michael Cohen earlier this year, was reportedly made several months before the election. It could prove useful to prosecutors, who are determining whether the president violated any campaign finance laws, and it provides an example of the documents Cohen held that may prove damaging to Trump.
© Ahmed Al Sayed/Anadolu Agency, via Getty Images Aref Ghafouri, a magician who was bitten by a Egyptian cobra, at a hospital in Cairo. "He should be 100 percent fit in a couple of days," a doctor said.  3) Stricken magician unites longtime Middle Eastern rivals (New York Times)
Diplomatic relations in the Middle East can be notoriously tense, but when an Egyptian cobra bit a Turkish magician on Sunday, both countries worked together in the race for the cure.
© ABC  4) Pirro claims explosive argument on 'The View' continued off-camer (Daily News) 
Viewers of 'The View' on Thursday saw Whoopi Goldberg and guest Jeanine Pirro erupt in a heated argument over Trump's immigration comments, but Pirro now claims that Goldberg continued the argument off-set, following her as she left the building and shouting epithets at her. Other sources, however, note that the escalation in tension was mutual.
© USA Today Sports  5) Fans chant 'overrated' at 13-year-old LeBron James Jr (USA Today Sports)
Expectations can be high for anything you do when you're the son of the best currently active basketball player in the NBA. When you also happen to play basketball, they're astronomical. Unfortunately, this can cause others to be somewhat cruel, as the son of LeBron James (re)discovered earlier this week.