Sandra Oh, Andy Samberg to host the 2019 Golden Globes next month
Entertainment Weekly
12/5/2018
NBC has named the hosts of the 76th annual Golden Globe Awards.
Sandra Oh, star of the acclaimed BBC America drama Killing Eve, and Andy Samberg, star of NBC's comedy Brooklyn Nine-Nine, will cohost the annual telecast.
"Sandra and Andy are the perfect choices to host this world-class event," said Paul Telegdy and George Cheeks, the co-chairmen of NBC Entertainment. "They bring wit, charm, and style to a room filled with the very best of film and television. It's sure to be another unforgettable, fun-filled night."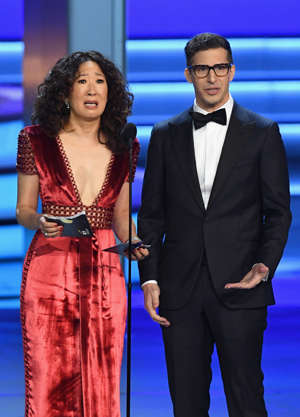 © 2018 Getty Images Sandra Oh and Andy Samberg walk onstage during the 70th Emmy Awards at Microsoft Theater on September 17, 2018 in Los Angeles, California. (Photo by Kevin Winter/Getty Images) The Globes are actually right around the corner. The three-hour live telecast will air Sunday, Jan. 6, at 8 p.m. ET/5 p.m. PT from Beverly Hills.
Golden Globe nominations are set to be announced Thursday morning, and EW will have full coverage.
Samberg is a two-time Golden Globe winner for Brooklyn Nine-Nine, while Oh won a Globe in 2006 for her work on ABC's Grey's Anatomy.
Fun fact: Oh was also one of EW's 2018 Entertainers of the Year for her work on Killing Eve.
Previously EW suggested 15 women which would make terrific Golden Globes hosts for this ceremony, and you can check out that list here.
Previously, the duo presented at the Emmys together:
The ceremony will also surely promote the new season of Brooklyn Nine-Nine, which NBC rescued from being canceled by Fox in May. The new season begins Thursday, Jan. 10, on NBC — check out our first-look Brooklyn Nine-Nine photos.