Jennifer Lopez Is Returning to 'Will & Grace' & Playing Two Different Characters!

ETOnline
1/11/2018
J.Lo (and Harlee Santos) are heading to Will & Grace!
The 48-year-old singer-actress is returning to the sitcom in two different roles: as herself and her Shades of Blue character, detective Harlee Santos, Vanity Fair reports. Shades of Blue, of course, shares the same network (NBC) as Will & Grace. 
The show took to Instagram on Wednesday to share the first photo of Lopez on set. 
Related slideshow: Canceled, renewed or ending -- your favorite show's fate (via Photo Services):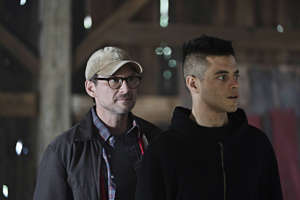 Lopez previously appeared on
Will & Grace
in two episodes at the end of the series' sixth season, when Karen (Megan Mullally) got married to Lyle Finster (John Cleese) -- as well as the season seven premiere. In the show, Lopez grew up with Karen's maid Rosario (Shelley Morrison), and ended up singing at Karen and Lyle's wedding. 
The Will & Grace reboot has snagged a slew of celeb appearances since it returned in September. See more on the show in the video below.