Kaley Cuoco says the cast was heartbroken to bring The Big Bang Theory to a close after Season 12

Daily Mail
9/20/2018
© The Associated Press This image released by CBS shows Kunal Nayyar, from left, Simon Helberg, Melissa Rauch, Jim Parsons, Mayim Bialik, Johnny Galecki and Kaley Cuoco appear in a scene from the long-running comedy series "The Big Bang Theory." The popular series will end in 2019. (Erik Voake/CBS via AP) The hit CBS sitcom The Big Bang Theory is coming to an end after Season 12, which was a heartbreaking decision to make, said star Kaley Cuoco.
Cuoco appeared on The Late Late Show with James Corden last night, where she revealed (courtesy of The Late Late Show with James Corden YouTube) what it was like when the decision was finally made to end the series, which will go down in history as the longest-running multi-camera sitcom in TV history.
'It was definitely tough,' Cuoco somberly stated. 'There was not a dry eye in the room, a lot of hysterical sobs.'
She added that it didn't matter when the show ended, 'we all would be devastated. 
'It's been a long run and we've been very grateful, but it's time to move on to other things, which is so heartbreaking, but it would have been heartbreaking no matter when,' the blonde beauty added. 
On a lighter note, Cuoco added she's sick of taking the stairs, and hopes that is rectified in the final season of The Big Bang Theory.  
 'I would like the elevator to get fixed,' Cuoco said, when asked by Corden how she'd like the show to end, which lead to raucous applause from the audience.
'I mean, the stairs have gotten more and more exhausting as the seasons have gone on,' the actress added. 'Seasons 1 and 2, we're running up there. Now, it's Season 12, we're all a little bit older, a little more difficulty getting up those steps, so now I'd like the elevator to work.'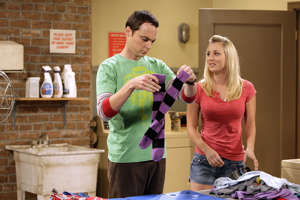 © Sonja Flemming/CBS via Getty Images
Cuoco, 32, appeared on The Late Late Show alongside Joel McHale, who offered a solution that could potentially result in The Big Bang Theory staying on the air. 
CBS announced last month that Season 12 of The Big Bang Theory would be the last, with Entertainment Weekly reporting shortly thereafter that the show ending was largely due to Jim Parsons, who wanted to leave the show.
The network was trying to negotiate a deal with the four main stars - Parsons, Cuoco, Johnny Galecki and Kunal Nayar - for two more seasons.
This would have reportedly earned each of the four stars $50 million apiece, but Parsons decided to move on. McHale, however, had a cost-effective solution.
 'Also, I'd like to say, I'll play Jim Parsons' role, and I'll just take half the money he was offered,' McHale said, which brought a big laugh from Cuoco and the crowd.
'I'm happy to step in if you need me,' McHale added, before delivering Parsons' beloved catch-phrase, 'Bazinga.' 
The Big Bang Theory kicks off its 12th and final season Monday, September 24 at 8 PM ET on CBS. 
Related slideshow: Canceled, renewed or ending -- your favorite show's fate (via Photo Services)