The Viacom-owned network is in preliminary talks to revive canceled Tim Allen comedy Last Man Standing. Insiders stress talks are in the early stages as CMT is exploring if it can revive the expensive show at a price point that works for the niche cable network. It's unclear if a deal will be made as insiders cautioned that a renewal at CMT may be a longshot given the price tag on the veteran series. Also unclear is how big of a renewal the series could get as everything from a short order to multiple-season/20-episode run have been rumored. 20th TV, which has already placed calls to writers about a potential revival, and CMT declined comment. 
ABC canceled the multicamera comedy after six seasons in May. The cancellation was among the biggest surprises to come from the broadcast networks during the pre-upfront decision-making period. At the time, Allen tweeted that he was "stunned" and "blindsided" by ABC's decision.
Related video: Tim Allen 'blindsided' by 'Last Man Standing' cancellation (Via FOX News)
"Last Man Standing was a challenging one for me because it was a steady performer in the ratings, but once we made the decision not to continue with comedies on Fridays, that was where we landed."
Factoring into the decision was ABC's decision to retreat from its multicamera comedy block on Fridays, where Last Man Standing was paired with the since canceled Dr. Ken. Also contributing to the move was that the pricey comedy was produced by an outside studio (20th Century Fox TV), with Allen also looking for a pay raise as part of his contract renegotiations.
"There are many factors that go into the decision-making process: ratings, critical acclaim … of course we look at ownership structure," Dungey said of the rising importance of ownership at all of the Big Four broadcast networks. Ultimately, Dungey stressed that Allen's political affiliation — he has compared being a conservative in Hollwyood to " '30s Germany" — did not play a role in the decision to ax the comedy. "I wouldn't say that was the deciding factor," she said.
Last Man Standing had carved out a solid viewership on little-watched Friday nights. For the uninitiated, Fridays are typically earmarked for programming with reduced viewership expectations, where a comedy like Last Man Standing and its 1.7 rating among adults 18-49 and 8.3 million viewers is seen as impressive. (Those numbers would be a breakout hit on CMT.)
Speaking with THR after the upfronts, 20th Century Fox Television's Howard Kurtzman singled out Last Man Standing as the most disappointing and surprising pass. "If there's a way to bring it back, we will explore those opportunities," he said.
A Last Man Standing revival would come a year after CMT revived Nashville after ABC canceled the country music drama. The series, starring Hayden Panettiere, became CMT's most-watched original scripted effort and helped launch the cabler's limited series Sun Records. CMT would be a natural new home for Last Man Standing as the cabler sees strong returns from syndicated repeats of the comedy. The series would also help bolster its increased push for scripted originals, which includes Still the King.
Related Gallery: Canceled, Renewed or Ending? (Provided by Photo Services)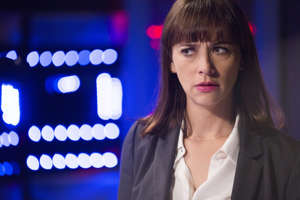 Canceled, Renewed or Ending?