This Mathematical 'America's Got Talent' Magic Trick Will Totally Stump You

HuffPost
6/19/2017
Now, there's a humble magician vying for America's approval.
In the exclusive clip above, 25-year-old Tom London tells judge Simon Cowell that "it's always been my dream to create the best magic show Vegas has ever seen." While you might expect him to start sawing people in half or pulling rabbits out of a hat in order to accomplish this, London takes a different approach: He's showing the crowd the magic of ... numbers.
London asks volunteers to answer random questions (e.g., how many millions of records has judge Mel B sold) and has host Tyra Banks type an 8-digit number into a calculator with her eyes closed. When he unveils the result, the judges and audience are wowed. Watch the clip above to see.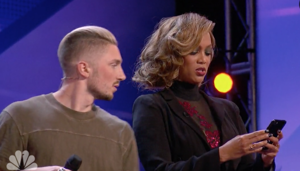 That's truly mathematical.
© Provided by The Huffington Post Catch London's full audition on Tuesday night's episode of "America's Got Talent," airing on NBC at 8 p.m. ET.