What the Emmy Nominations Got Right (And Wrong) This Year

The Hollywood Reporter
7/13/2017
Daniel Fienberg: Happy Emmy morning, Tim! 
Remember how happy we were at this time last year? Suddenly Emmy voters were recognizing The Americans and an impressive number of critical darlings were making the cut? 
And this year? Well, apparently Emmy voters really, really liked Westworld and This Is Us. How happy are you?
Tim Goodman: Well, if last year was once step forward then ... sigh. I'm not sure where to begin. I honestly thought Emmy voters made a huge leap last year. As an organization, I had ranted that it was essential for the Academy to get its s--- together and there was no better opportunity than the one left at its doorstep when the Golden Globes returned to non-essential wackiness. I said it had to start, absolutely, with The Americans. That a moment had to be seized. So, yeah Dan, I remember that very well. Feeling like change had finally come and the people who represent television finally proved they actually watched it and knew what quality was. And now? Wow. It's more than two steps back. I mean, The Americansnot being nominated is a flat out joke. There are a lot of bad jokes we'll get to - but it appears to me that rubber-stamping, the scourge of the Emmys, is back full-time. I'm not super surprised about Westworld and This Is Us - we both kind of figure that would happen, but maybe not to this extent. I just think overall there's so much regression and badness. It's hard to pick a starting spot. But wow, not nominating The Americans and going with House of Cards? Again. That series hasn't been good in years. Gah. How disappointed, stunned and angry are you?
Fienberg: Basically, the way I figure it is that last year, "Will Emmy voters recognize The Americans?" was a narrative and Emmy voters acknowledged it, but this year having done it once, they didn't feel as compelling a need to do it again. There were too many shiny and new dramas in the category and so This Is Us and Westworld and Stranger Things and The Crown all had to force their ways in. And a couple of those are good shows. Netflix played the Emmys game amazingly this year, renting out a huge space and doing dozens of FYC events and it obviously paid off. All of those nominations for House of Cards are embarrassing, though. Other than Robin Wright, there is no aspect of that show that is worthy of recognition.
But OK. I'm at the "accentuate the positive" part of dealing with the nominations and Handmaid's Tale, which had a spectacular first season, got a well-deserved pile of nominations, including Elisabeth Moss' inevitable nom, but also drama series and Reed Morano for directing the pilot and Alexis Bledel and Samira Wiley (who should have been nominated for Orange Is The New Black) and Ann Dowd. Speaking of Ann Dowd, she's the lone nomination for The Leftovers, which makes me ANGRY.
Goodman: I knew that The Leftovers was going to get nothing and Rectify was going to get nothing so I had already wept those tears of regret. It'll take a while to get over The Americans precisely because pulling a series out of a category it finally got in is tough to take, especially while leaving in House of Cards. But I'll tell you how this problem could have been fixed easily. It's something I've railed about for two years now: Given the magnitude of content in the industry right now - a topic that everyone in this industry talks about every day so it's right there in the zeitgeist as a constant reminder - there needs to be 10 nominations in every category. It's beyond ridiculous that there's not. In fact, it's indefensible. If you're going to expand to seven, in some categories, what's the logic for not going to 10? It saves the Academy embarrassment -- and members should be embarrassed today. And most of the stories written after the nominations would be less about snubs and more about which of all of these (mostly) deserving actors and series will win in September. I mean, seriously, the Academy needs to stop shooting itself in the face. Expand to 10 in every category for 2018 or there's no hope. 
Fienberg: Look, I agree with you in the basic principle, but I don't think "Nominate 10 shows" is the answer when a much simpler answer is "Don't nominate House of Cards anymore." I'm not going to say, "We need to expand the field so that Emmy voters can nominate the awful stuff and still find room for the good stuff" when "Stop nominating Modern Family" is a better solution than, "If we expand to 10, Modern Family *and* Fleabag can get nominations." Because, yes, Modern Family is nominated again after a season that was almost completely laugh-free. If Emmy voters wanted to recognize network shows (in addition to the very worthy Black-ish), Speechless and The Good Place and The Carmichael Show are just sitting there. 
But again, I'm going to try to accentuate the positive again on the comedy side, because Atlanta was one of TV's best shows last year and the series and Donald Glover got an impressive assortment of nominations, including recognition for writing, directing and acting. And there's Pamela Adlon, too!
Goodman: Yeah but Atlanta should have been in the supporting actor categories, too, Dan! You're not switching me from negative to positive that easily. OK, fine. Yep, we talked before about how this was going to be Atlanta's year so it's good to see that happen. Same for Master of None. Best comedy has lots of diversity, which is nice to see. I will agree to disagree with you on the 10-per-category idea but wow, a lot more deserving series could have fit nicely here. As it stands, and keeping it positive. Your network picks, as we discussed previously, are spot on for this category. Having Fleabag, Catastrophe, Casual, Girls, Better Things, You're the Worst and Insecure at least get a legit shot would have been nice. I will circle back quickly and agree that yes, Handmaid's Tale getting in is fantastic. I thought it was a slam dunk but you never know, obviously. And I think that's a really important step for Hulu. Shall we hit the other categories?
Fienberg: It's a huge step for Hulu and coupled with underwhelming performances from a lot of Amazon's stuff (both deserving and undeserving), Hulu may have gone from afterthought to second place (Netflix's pretty untouchable in first) when it comes to streaming prestige TV with just one show (because Hulu had a bunch of originals that didn't make a ripple). 
When you say you want to hit other categories, is that your way of saying you want to talk about Big Little Lies and its strength in the movie/miniseries field? Both Reese and Nicole got nominations, as did both Jessica and Susan for Feud. Throw in Felicity Huffman for American Crime and Carrie Coon, at least getting a modicum of recognition for Fargo, and that's one of the most impressive categories going.
Goodman: That's going to be impossible to pick. But hey, they're all winners. I like how in midst of all of this madness you're still trying to provoke me with Big Little Lies. Hey, did you know Black Mirror was a movie? OK, um, moving on to sort of an all encompassing field of drama actors, I can tell you that Coon makes me the happiest but I'm also very pleased to see Elisabeth Moss even though it wasn't a surprise (it might only be that if she doesn't win). Both Keri Russell and Mathew Rhys help put a salve on The Americans thing. Thandie Newton and David Harbour sort of made my day (if that's possible given the catastrophe before us). You said you wanted to be positive so I didn't even go on and on about acting snubs (you know, beyond The Leftovers), but I will just say that, ahem, that actress in a comedy series list is, uh, interesting. Probably could have done a little better there. Oh, and hey look, Dan, Barb from Stranger Things got a nomination! I'm sure that delights you. 
Fienberg: Who's provoking who now, Tim? Who's provoking who! Stupid Barb. I don't want to hate Barb. I didn't hate Barb when I watched Stranger Things. But then a weird thing happened and Barb went from being an underwritten blank slate to being the blank slate upon which a generation read all of its/our anxieties about being marginalized and underwritten. But even The Cult of Barb isn't justification for giving Barb an Emmy nomination and I swear this is no offense to Shannon Purser, but I'm surprised the nomination wasn't just to "Barb." But I'll continue to accentuate the positive and point out that Rory (Alexis Bledel) and Jess (Milo Ventimiglia) both received Emmy nominations this morning, even if Ventimiglia's is a bit strange and Netflix's Gilmore Girls reboot received none.
How about we talk about five nominations that made us happy - beyond what we'd discussed here - with Glover and Atlanta and Coon and Master of None, etc? That would return us to thinking positive. And I think five is actually easy. My five would be: Mandy Patinkin getting a nomination after the Emmys finally tired of Homeland. He remains ever great. David Thewlis getting a nomination he so richly deserved for Fargo. Pamela Adlon getting noticed, finally. Donald Glover and his brother both getting writing nominations for Atlanta. And Planet Earth II, quite possibly the best thing that aired on television all year, getting a just nomination for documentary/non-fiction series. See, easy. And positive.
Fienberg: OK. Positive. And people I haven't mentioned already. Jackie Hoffman getting nominated in addition to the bigger names in Feud makes me very happy. Since O.J.: Made in America was my favorite thing that aired on TV last year, all of its nominations work for me. The Better Call Saul episode "Witness" was a magnificently directed hour and I'm glad Vince Gilligan got a nomination for it, even if I'm bitter about Michael McKean and Rhea Seehorn being ignored again. I can take or leave This Is Us in the balance, but Gerald McRaney had never been nominated for an Emmy and he was so great as Dr. K, so I'm pleased for him. And even if Alison Wright really deserved her nomination for The Americans last year, she's generally hugely worthy.
Positivity!
Goodman: Damn it all. Now I want to vent on the McKean and Seehorn snubs! But I won't. I'm taking a breath. You know what? We could have been even angrier. But at the same time we could have found even more series or actors or writers to be happy for in their nominations. We don't have time, though. Plenty of new shows to review. Our job here is done. Until the actual awards.
See all of the 2017 Emmy Nominations (Provided by Photo Services)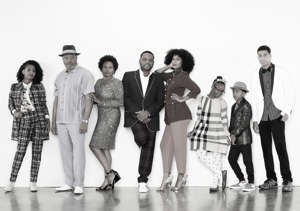 2017 Emmy Nominations