'The Bachelor' Finale Recap: Who Did Nick Viall Choose?

Variety
3/14/2017
SPOILER ALERT: Do not read until you have watch "
The Bachelor
" Season 21 finale. This post reveals the winner chosen by Nick Viall. 
At long last, Nick Viall's long, long journey (really, it's arguably been too long) looking for love on the Bachelor franchise has come to a foreseeable end.
Nick first appeared on ABC's dating competition show during Season 10 of "The Bachelorette" when Andi Dorfman rejected his proposal. The very next season he attempted to woo Kaitlyn Bristowe, but was, once again, ditched during the finale. After a reputation-rejuvenating turn on "Bachelor in Paradise," Nick was selected as Season 21's "Bachelor."
© Provided by Variety
Coming into Monday's episode, the 36-year-old Waukesha, Wis.-native had whittled down a field of 30 to two — Vanessa Grimaldi and Raven Gates.
Vanessa, a special education teacher from Montreal, took a mature approach to her journey with Nick, including many, many tears. Although the two share a special connection, Nick had expressed doubts about whether the couple would live in Canada or the U.S.
Gates, meanwhile, has enjoyed a lively, carefree journey. Hailing from Hoxie, Ark., her jet black hair and southern charm have stolen Nick's heart. But did their relationship have the emotional depth necessary to be the last one standing?
In the end, Nick chose Vanessa. 
Although his journey as the "Bachelor" has come to an end, it's safe to say that Nick will remain a familiar face on television: It was previously announced that he will participate in the upcoming season of "Dancing With the Stars."
Canceled, renewed or ending -- your favorite show's fate: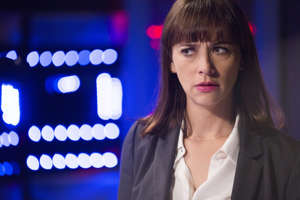 Canceled, Renewed or Ending?