Actor Faizon Love pleads not guilty to assault charge

Associated Press
3/8/2017
Love pleaded not guilty Wednesday in Franklin County Municipal Court and was released on $2,000 bond. He was arrested Tuesday and jailed overnight after authorities alleged he argued with the 24-year-old man and assaulted him in a baggage claim area.
Authorities say Love grabbed the man behind the neck and threw him to the ground and into a desk, then pushed him down when he tried to get up. Video of the altercation was released Wednesday.
© The Associated Press FILE - In this Monday, Oct. 5, 2009, file photo, Faizon Love, a cast member in "Couples Retreat," banters with photographers at the premiere of the film in Los Angeles. Love has been jailed on a misdemeanor assault charge in Ohio after an alleged altercation Tuesday, March 7, 2017, with a valet at John Glenn Columbus International Airport. (AP Photo/Chris Pizzello, File)
Defense attorney John Moore has said there was a disagreement over payment.
Love is scheduled to make appearances at a Columbus comedy club next week.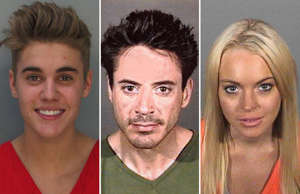 Celebrity mugshots