Ansel Elgort poses shirtless for Interview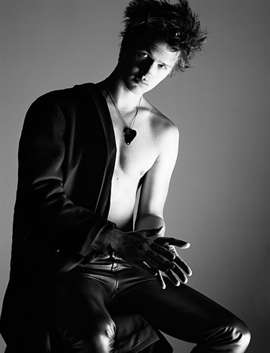 No faults (or shirt) here! Ansel Elgort is shirtless in a new spread for Interview magazine's July 2014 issue.

In the images shot by Mikael Jansson, the "Fault in Our Stars" actor broodingly looks to the side as he stretches his arms behind his back. In another photo, the 20-year-old wears tight leather pants and a black jacket half-way, baring his toned torso. The usually clean-cut actor is styled with shaggy, bed head-style hair.

Profiled for the magazine's Young Guns of Hollywood roundup, the native New Yorker opens up about getting bit by the showbiz bug early and honing his skills at LaGuardia High School (the "Fame" school that birthed the likes of Jennifer Aniston, Nicki Minaj and Sarah Michelle Gellar).

"When I was nine, I started doing ballet," he says. "That's when I knew that I was down to keep doing it…I would be at theater camp, doing shows, or after-school programs. Then I was doing shows in school. It was nonstop."

Elgort, who first costarred with "Fault" star Shailene Woodley in "Divergent," also reveals that producers had him audition seven times for his first major role, in last year's "Carrie" alongside Chloe Grace Moretz.

"I just kept coming back and doing the same thing over and over again. I guess they wanted to see if I was consistent. I was a total nobody."

Any doubts about Elgort's bankability might finally be put to rest -- tearjerker The Fault in Our Stars made $48 million opening weekend, besting Tom Cruise's "Edge of Tomorrow," which raked $17 million.

MORE FROM WONDERWALL:

Shirtless actor shouts out to all his 'baby girls'

Stars show off sexy beachside selfies

Like us on Facebook?