Ashton Kutcher reportedly cutting Demi Moore out of friendship with Madonna, Guy Oseary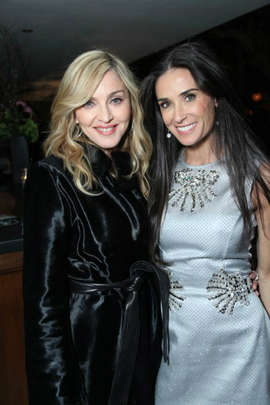 Is Ashton Kutcher at the center of an ongoing feud between Madonna and Demi Moore?

Like us on Facebook?

That's what RadarOnline is reporting. The site says that Mila Kunis' baby daddy has "driven a wedge" between Madge and his ex-wife. "Ashton has flat-out stolen Madonna's manager, Guy Oseary, as a friend from Demi, and now Guy and Madge have mutually frozen Demi out of their lives," RadarOnline quotes a source as saying.

Rumors of a rift between longtime friends Madonna and Demi are nothing new, but Radar is reporting that Ashton's friendship with Guy has helped draw a definitive line in the sand. Further, Madonna and Demi have always teamed to co-host a glitzy late-night Oscar party directly following the Academy Awards at Guy's Beverly Hills home. But this year, Demi only stopped by for a "10-minute appearance," Radar reports. The cameo comes on the heels of last year, when Demi was absent from co-hosting duties altogether.

"Guy's Oscar party last year was the first since 2006 that Demi didn't co-host, which has all mutual parties involved convinced that Demi and Madonna are also on the outs," the source tells Radar. "Guy and Madonna never make a move without consulting each other so there's no doubt been a mutual freezing out by Guy and Madge of Demi. It's upsetting to her."