Bill Cosby May Testify At Rape Trial After All; Actor Faces 10-Yrs If Found Guilty

Deadline
6/9/2017
EXCLUSIVE:
After days of sitting in court and listening to his accuser and other witnesses give impugning testimony in the criminal trial over the alleged 2004 rape of
Andrea Constand
,
Bill Cosby
is now thinking of taking the stand in his own  defense, I've learned.
The potentially dramatic change in tactics for Cosby and his defense team comes after previous  assertions by the 79-year-old actor that he would not testify in the trial that just wrapped its fourth day in Norristown, PA. While there was discussions behind closed doors earlier today that Cosby could be sworn in and questioned on Friday, the much accused actor's team now are holding off to see how things go in Judge Steven O'Neill's courtroom tomorrow and early next week.  
On Thursday afternoon during a break in the proceedings, The Cosby Show creator's PR rep Andrew Wyatt told Deadline that his client was in a "good mood" about the trial. That good mood could sour soon if the case goes against Cosby. If found guilty by the jury of seven men and five women for three felony charges of second-degree aggravated indecent assault, the actor could face more than 10 years behind bars.
Cosby's team did not respond to request for comment on his potential testimony.
Though Cosby has been accused by more than 60 women of drugging and sexually assaulting them, the trial in the Philadelphia suburb is the only criminal case in the nation against Cosby. Going back over 40 years in some instances, the statute of limitations has long since expired on all the known cases except the 2004 case of former Temple University employee Constand.
Picking up on the 2005 case reopened by his predecessor Risa Vetri Ferman nearly two years ago, newly elected Montgomery County D.A. Kevin Steele charged Cosby near the end of that year, just before the expiration of Pennsylvania's 12-year statute of limitations on such sex crimes. The  actor was arraigned on December 30, 2015 and released on $1 million bail without entering a  plea at that time. After months of unsuccessfully trying to see the case kneecapped or dismissed, Cosby has since pleaded not guilty.
While Cosby stand in the trial yet, his voice and words have been a very large presence in the Keystone State courtroom. Today saw two local investigating police officers read out long portions of interviews and depositions by the actor on the stand. On Wednesday, a taped phone conversation between Constand's mother and an Cosby was played for the courtroom. The jurors, judge, media and onlookers heard the once beloved comic offer in 2005 to "set up something" like paying for graduate school for Andrea Constand after ex-Director of Operations for Temple's women's basketball told her family what she says Cosby did to her a year earlier.
A poised Constand herself testified under oath for almost 10-hours on June 6 and June 7. Previously, ex-William Morris assistant Kelly Johnson was in the courtroom recounting her allegations of being drugged and sexually assaulted in 1996 by Cosby at the Hotel Bel-Air.
Originally set to last at least two-weeks, the Cosby trial now looks ahead of schedule and could wrap up mid-next week.
Related slideshow: Cosby's rise and fall (via Photo Services)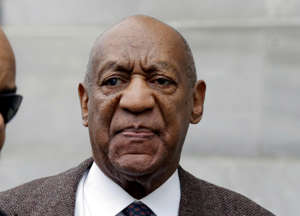 Bill Cosby: From icon to accused