Brad Paisley takes 'selfie' with Westboro Baptist Church members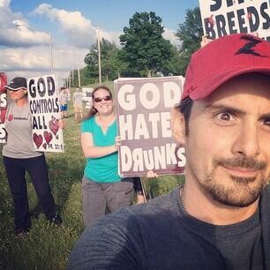 Country star Brad Paisley turned a Westboro Baptist Church protest into a quirky photo opportunity outside his concert in Kansas on Sunday.

The religious extremists stood outside Bonnor Springs' Cricket Wireless Amphitheater, holding up signs that read "God Hates Drunks," "Sin Breeds Violence," and "God Controls All" as part of a protest against Paisley and his songs like "Alcohol" and "Celebrity."

But the WBC members' plans to irk the star backfired when he joined them and politely asked if they would join him for a "selfie", which he defiantly posted on his Instagram page.

He added the caption, "Westboro Baptist Selfie!! Or west-Burro(a**) selfie. Hopefully they can hear the show out here. We'll play loud."

Paisley's reaction is somewhat different to the one his fellow country music star Vince Gill had when he faced the Westboro protesters in nearby Kansas City, Missouri last year. The "I Still Believe In You" singer confronted the picketers with an expletive-filled speech, which was caught on camera, and the video footage of the interaction went viral.

Foo Fighters have also had fun with the extremists -- they dressed in disguise and performed songs that appealed to the God-fearing group on the back of a flat-bed truck outside a show in Kansas City in 2011.