Britney Spears shows off boyfriend on stage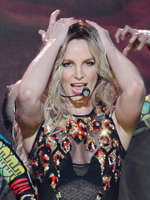 WENN

Britney Spears rang in the new year by bringing her boyfriend on stage to perform with her at her final show of 2013.

The singer kicked off her residency at the Planet Hollywood Resort and Casino in Las Vegas on December 27, and she performed a show at the venue on New Year's Eve. During the show, Spears picked her boyfriend, David Lucado, from the audience to take part in a saucy sequence during which her dancers tied him up, and the singer led him around the stage on a leash.

Photos show Lucado grinning and laughing as Spears holds him by the leather strap. The pop icon acted out the sequence with former 'N Sync star Lance Bass on Monday night.