Craig Robinson & Adam Scott's Paranormal Comedy 'Ghosted' Lands Pilot Order at Fox

Variety
1/26/2017
Fox has given a formal pilot order to "Ghosted," starring Craig Robinson and Adam Scott, Variety has learned.
© Provided by Variety The paranormal project was a hot project early on, landing a pilot production commitment in its initial order last summer.
The single-camera comedy has been described as "The X-Files" as a comedy. It follows a cynical skeptic (Robinson) and a genius "true believer" in the paranormal (Scott) who are recruited by The Bureau Underground to look into the rampant "unexplained" activity in Los Angeles, all while uncovering a larger mystery that could threaten the existence of the human race.
Robinson and Scott will both serve as executive producers, in addition to starring. Other EPs are Naomi Scott, Oly Obst, Mark Schulman and Tom Gormican ("That Awkward Moment"), who penned the pilot. Kevin Etten ("Workaholics," "Scrubs," "Desperate Housewives") has signed on as showrunner and will also serve as an exec producer. The pilot hails from 3Arts, Gettin' Rad Productions and Twentieth Century Fox Television.
Gormican is repped by WME, 3 Arts and attorney Micahel Schenkman; Robinson is repped by UTA, 3 Arts and attorney Matthew Johnson; Adam Scott is repped by WME, Rise Management and attorney Wendy Heller.
Find out the fate of your favorite show: canceled, renewed or ending?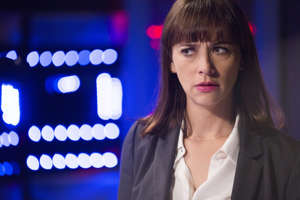 Canceled, Renewed or Ending?