Gabrielle Union on wedding planning: Dwyane Wade is 'driving the bus'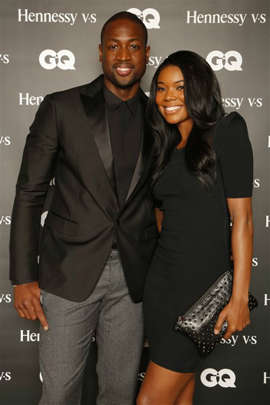 By Gena Oppenheim

Between filming the TV series "Being Mary Jane" and her movie career, Gabrielle Union has a jam-packed schedule. And her fiance Dwyane Wade is just as busy these days! The Miami Heat guard is working hard to help his team get through the NBA finals. So who's taking on the wedding planning for their upcoming summer nuptials?

You may be surprised to find out that it's Gabrielle's basketball player beau who has stepped up despite the pressure of the NBA championships that are just around the corner.

"I think even though [Dwyane Wade's] going into the finals, he's still got time to be a [groom]zilla," Gabrielle revealed at a recent "Think Like a Man Too" press conference. "As people like to think he's worried about Tony Parker or the air-conditioning in San Antonio, he's worried about centerpieces and what kind of wine we're having."

"So he's more of the one that's really driving the bus, and I'm working on 'Mary Jane,'" Gabrielle added.

If the "Bad Boy II" star is getting her man to do the heavy lifting for their wedding, she must be doing something right. So what's her advice for maintaining a happy relationship?

"I think the biggest thing overall, that we all haven't talked about with relationships in general or friendships is, never lose the fun of any relationship."

Well, we can't wait to see what fun things Dwyane has planned for their wedding ceremony in Miami on Aug. 30!