Game of Thrones Author's Nightflyers Space-Travel Pilot Greenlit at Syfy

TVLine
6/23/2017
The space flight is dark and full of terrors: Syfy on Friday officially issued a pilot order to Nightflyers, a sci-fi drama based on a novella by Game of Thrones scribe George R. R. Martin.
The story takes place aboard The Nightflyer, "a ship with a small, tightknit crew and a reclusive captain," per the series' official logline.
The craft — staffed by "eight maverick scientists and a powerful telepath" — travels to the outer reaches of the solar system to find new alien life. Cool! Because that usually goes so swimmingly, right? Nope. "But when terrifying events begin to take place," the description continues, the crew beigns "to question each other, and surviving the journey proves harder than anyone thought."
Martin's novella was previously made into a film; James Avery (The Fresh Prince of Bel-Air) was among that cast. A rep for Syfy confirms to TVLine that the author is not a producer or consultant on the potential series.
Nightflyers will be executive-produced by Suits' Gene Klein and David Bartis, among others. Jeff Buhler (Jacob's Ladder) wrote the TV adaptation.
"We are looking forward to diving deeper into George R.R. Martin's chilling world of Nightflyer," NBCUniversal Cable Entertainment exec Bill McGoldrick said via statement. "The script that Jeff delivered encapsulates this classic sci-fi horror story and adapts it to a platform where we can truly explore the depths of madness."
Related slideshow: Canceled, renewed or ending -- your favorite show's fate (via Photo Services):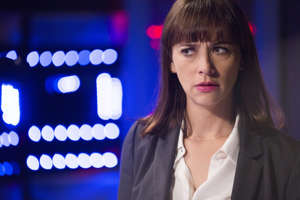 Canceled, Renewed or Ending?