Gerard Butler: 'I didn't see my father for 14 years'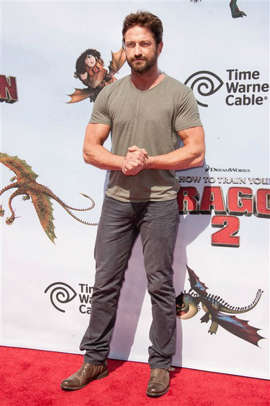 By Michael Mullen

In spite of its subject matter -- dragon-riding Vikings -- Gerard Butler's latest film, "How to Train Your Dragon 2," hits surprisingly close to home for the 44-year-old actor. The Scottish star apparently sees a bit of his own family history in the relationship between Hiccup, the film's protagonist, and his fictional family.

"I've got to tell you: my father -- I didn't see my father for 14 years. I didn't even know he was alive. And he turned up out of the blue," Gerard said at a press conference during the lead-up to the film's release.

Gerard plays Stoick, a Viking chief in the animated film, and Jay Baruchel plays his dragon-riding son, Hiccup. In this sequel, Hiccup is reunited with his mother, Valka, who he hasn't seen in 20 years. So, no wonder the story hits close to home.

Gerard was born in Scotland, but his family relocated to Montreal when he was 6 months old. His parents divorced a year and a half later, and Gerard's mother moved back to Scotland with Gerard and his siblings. Gerard would later ask his mother, "I'm not going to see my dad, am I?" She told him, "No, I don't think so."

But that changed when he was 16: "I came home one night, and my stepfather said, 'Keep your jacket on, you're going into town. Your dad's here,'" Gerard said. "And I had to go into this restaurant and walk around this packed restaurant going from table to table literally looking at men going 'Is that my dad? Is that my dad? Is that my dad?' [Chuckles.] And then he finally stood up and he was the weirdest looking guy in the restaurant."

Gerard left Scotland and "went straight to Toronto [where his father lived] and spent a summer there." He made up for lost time with his dad -- "It hit me like a ton of bricks ... [but] I also found it really exciting: Suddenly, my father was in my life," he told Wonderwall exclusively.

The "300" actor also connected with his 8-year-old half-brother: "I'd heard rumors that I had a half-brother, but we hadn't spoken," he told Wonderwall. "I hadn't seen my father for so long that I didn't know if it was true."

The reality that he was now a big brother hit a 16-year-old Gerard on the night he arrived in Toronto when his younger half-sibling asked if they could sleep in the same bed: "I'm like, 'Oh my God. I'm a big brother!' It was really crazy," he said.

Not long after their reconciliation, Gerard's father was diagnosed with terminal cancer and died when the actor was 22.

The star doesn't think he's the only one who will feel a connection to a film that goes to "deeper and darker places" than most animated movies. "It's profound for a lot of people to suddenly imagine that the parent that you didn't think was there or the love of your life that you thought was gone is actually alive and well," Gerard explained. "There's a chance to rekindle everything you thought was lost in your life."